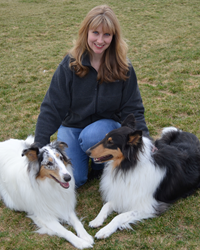 Pet Wants of Perrysburg is all about LOVE, HEALTH and CONVENIENCE – making it easy for you as a pet parent to love your pets by providing them with the best nutrition and health possible... - Adria Pugh
Perrysburg, OH (PRWEB) April 27, 2016
Adria Pugh loves spending time with her two dogs and she'd rather be walking or snuggling with them than cooking their food. So when she found Pet Wants – a fresh, nutritious kibble her dogs loved and she could feel great giving them – she knew it was something special. Now she's looking forward to bringing that pet food to her community through her own Pet Wants business – Pet Wants of Perrysburg.
Pet Wants' carefully developed proprietary pet food is slow-cooked with fresh, all-natural ingredients. The company has their distributor in Lisbon, Ohio, make the dog and cat food in small batches once per month so every kibble is guaranteed to be fresh and packed with nutrition. Pet Wants of Perrysburg' s mobile service delivers to Bowling Green, Grand Rapids, Haskins, Holland, Luckey, Maumee, Monclova, Northwood, Perrysburg, Rossford, Sylvania, Sylvania Township, Tontogany, Waterville and Whitehouse.
"Pet Wants of Perrysburg is all about LOVE, HEALTH and CONVENIENCE – making it easy for you as a pet parent to love your pets by providing them with the best nutrition and health possible with our fresh food conveniently delivered right to your door," Pugh said. "It's simple. Freshness is the key to good nutrition. You and your pet will appreciate healthy, complete and balanced pet food made from fresh, all-natural ingredients."
In addition to being made fresh monthly, Pet Wants only sources the best salmon, chicken, lamb, brown rice and other ingredients available. There's no sugar added, no fillers and no animal by-products. And, since Pet Wants never uses corn, wheat, soy or dyes, the food is a great fit for pets with allergies.
A devoted pet parent, Pugh didn't like the idea of giving her two collies Conner and Millie food she couldn't guarantee was nutritionally balanced, fresh and high-quality food. She started making dog treats from scratch as a hobby and then, for the last year, she was home-cooking their food. While it was a great option, it was also time consuming.
"When I discovered Pet Wants and did my research, I knew I could trust the brand. Now that Conner and Millie have successfully transitioned over to Pet Wants food, I am spending less time cooking for them and that means more quality time together without sacrificing the quality of their food. I hope our great food and convenient delivery can help other families to spend more quality time with their pets," Pugh said.
"I'm very particular about what I give my dogs and I went from home-cooking their food to giving them a dry kibble with Pet Wants. I wouldn't do that unless I was completely confident in the product. Let me send you a free sample – I know your pets will love Pet Wants and you'll feel good about giving it to them," she added.
Prior to launching Pet Wants Perrysburg, Pugh worked as a librarian at Way Public Library in Perrysburg. She lives in Perrysburg with her husband Jeff.
Pet Wants of Perrysburg is a franchise of the Pet Wants Franchising System. Pet Wants originally launched in Cincinnati in 2010. Owned by Michele Hobbs, the business was built to provide proprietary crafted, fresh, slow-cooked, all-natural pet food delivered to customers through a retail store and a convenient home-delivery service. Hobbs, now the company founder, turned the business into a franchise in 2015 with the help of Franchise Funding Group, an investment and franchise-development company designed to help entrepreneurs scale their companies nationally as franchise systems.
For additional information about Pet Wants of Perrysburg, call (419)635-PETS(7387), email APugh(at)PetWants(dot)com or visit http://www.PetWantsPerrysburg.com.
About Pet Wants: Pet Wants was started by Michele Hobbs out of love for her pets and frustration. Veterinarians were unable to help relieve her dog's painful skin allergies. After doing much research, Michele discovered the national dog food brand she trusted was not fresh, not all natural, and lacked sufficient nutrition...and when pet food sits in warehouses and store shelves for months and months… it loses even more nutritional value. She was committed to developing a better solution for all dogs and cats. Their food is exclusively crafted… fresh, healthy, slow-cooked and all natural with no sugar added, no fillers and no animal by-products. They source only the best salmon, chicken, lamb, brown rice, and other ingredients. Fresh ingredients make for better food… and better health for pets. And since they never use corn, wheat, soy or dyes, the common pet health problems associated with these ingredients are no longer worries. Their fresh food is conveniently delivered to the customer within weeks of production, not months. Roughly half of Pet Wants products are sold through their store and half through their convenient, home-delivery program. You can learn more at http://www.PetWants.com.