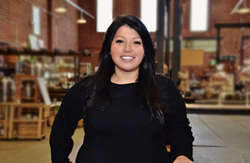 Charlotte, NC (PRWEB) April 25, 2016
When Carmen Larreynaga decided she wanted to open her own business, she knew it had to be something special. Now the local resident and entrepreneur is excited to announce that she's launched Pet Wants Charlotte, an urban feed store with an old fashioned twist reminiscent of milk man deliveries, but with fresh, slow-cooked, all-natural pet foods and treats.
"Our pets are our family. We don't feed our family members unknown ingredients cooked a year ago in China, and we shouldn't unwittingly do so with our pets," Larreynaga said.
Pet Wants' carefully developed proprietary pet food is slow-cooked in small batches with fresh, all-natural ingredients, free from added sugar, dyes, animal by-products, soy or wheat. The food is made once a month so every kibble is guaranteed to be fresh and packed with nutrition. To ensure pets receive the freshest product possible, customers are encouraged to get setup on our reoccurring free delivery once or twice a month. The mobile food delivery business serves customers throughout the Charlotte area, including South End, Dilworth, Uptown, Plaza Midwood, Noda, Ballantyne, Myers Park, University, Chantilly, Eastover, SouthPark and more.
Part of the Pet Wants mission is to consult with and educate pet owners to help them make the most informed nutrition decisions for their pets. Pet owners often spend thousands of dollars treating allergies and skin conditions that can be overcome through small changes to their diet. What's more, all Pet Wants foods are gluten-free.
"Dogs exhibiting weight loss, poor hair coat, and diarrhea may actually have a similar intolerance to gluten as their human friends, so our foods are gluten free as one more expression of our commitment to having happy pets," Larreynaga said.
"People don't always know what's in their pet's food, but it's really amazing to learn what we're feeding our animals. Our Pet Wants food – and the convenience of having it hand delivered to your door – is what sets us apart. I have a passion for caring for pets and helping them lead healthy lives and I am proud to be a part of that solution," Larreynaga said.
Larreynaga's background is in marketing and advertising, but as an animal lover she knew owning a pet-centric business was in her future.
Pet Wants is currently delivering food to customers' doorsteps and is also located inside the Atherton Mill Market in South End, and will soon launch its kitchen and urban feed store in South End. They can be reached at info(at)petwantsclt(dot)com or 704-690-9320. Additional information is available online at http://www.petwantsclt.com.