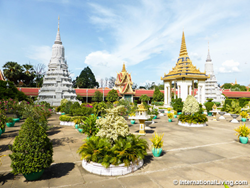 Tom has fallen for this historic and welcoming city, where his Social Security check more than covers him for everything he needs…including a central apartment with a balcony, great food, and regular adventures throughout Southeast Asia
Baltimore, MD (PRWEB) April 25, 2016
"Opportunity often lies in that space between the public's somewhat negative perception about a place and the much more positive reality on the ground," says Jennifer Stevens, Executive Editor of International Living.
Cambodia is a place where that misperception has created opportunity for adventuresome retirees like San Diego-native Tom Richter, 57. Tom was already living in paradise when he decided to move to Phnom Penh, Cambodia's capital.
A corporate sales executive, he'd decided that Central America was his best option for an early and affordable retirement. So he moved to the Costa Rican countryside where he could enjoy retirement on a Social Security income.
Costa Rica has plenty to offer retirees, but Tom had a son who lived and worked abroad as well…in Phnom Penh, Cambodia.
"I came to Cambodia to be closer to my son, who had built up a new life for himself here with a thriving business," Tom says. "But then I discovered that Cambodia was just as interesting a country as Costa Rica."
Since his arrival, Tom has fallen for this historic and welcoming city, where his Social Security check more than covers him for everything he needs…including a central apartment with a balcony, great food, and regular adventures throughout Southeast Asia.
"My check from Social Security comes to just over $1,000 per month. But in Phnom Penh that's a sizable amount, considering the average local salary is around $150 to $200 per month.
"Cambodia is my new home, but I love traveling and exploring the other countries in the region, Tom says. "There are plenty of reliable, low-cost airlines, which let me book flights in advance for as little as $20 per trip. By booking months ahead of time, I get the best promotional prices on flights as well as hotels. I've been to Thailand, Indonesia, Malaysia, and Vietnam in the last 12 months alone."
Tom says he's had no trouble with visas because the Cambodian visa system is one of the simplest and least-bureaucratic in the world. A one-month standard visa can be obtained on arrival at the airport for just $25 and two passport photos. This visa can then be extended at the Immigration office or through a travel agent.
For $285 and a simple application form, an expat can automatically apply for and be granted a one-year visa extension. This visa also allows the holder to make unlimited entries through Cambodian immigration and border control.
And the "love" part? After being divorced for more than a decade, Tom didn't expect to find love again. But after living in Phnom Penh for 18 months, Cupid's arrow struck when he met Monique, a French expat. They met through friends, and as Tom puts it, "We just fell in love with each other from the first meeting.
"Never in my wildest dreams did I imagine I would be spending my retirement in a tropical country like Cambodia, with such a relaxed lifestyle, or that I would have a good woman by my side, as well as having my son nearby. This country has made me feel 15 years younger, compared with living in the States. I made the right decision coming here, and I know it."
The full report on Tom's expenses, medical care options, and other particulars of retiring in Phnom Penh, Cambodia can be read here: "Enjoy a Relaxed and Comfortable Lifestyle on Your Social Security in Cambodia."
Editor's Note: Members of the media have full permission to reproduce the article linked above once credit is given to InternationalLiving.com.
Media Contact: For information about InternationalLiving.com content republishing, available source material or to book an interview for radio, TV or print with one of our experts, contact Associate Editor Carol Barron, 772-678-0287 (US), CBarron(at)InternationalLiving(dot)com or visit the Media Center. For automatic updates on the most current stories, follow International Living Media on Twitter.
For 35 years, InternationalLiving.com has been the leading authority for anyone looking for global retirement or relocation opportunities. Through its monthly magazine and related e-letters, extensive website, podcasts, online bookstore, and events held around the world, InternationalLiving.com provides information and services to help its readers live better, travel farther, have more fun, save more money, and find better business opportunities when they expand their world beyond their own shores. InternationalLiving.com has more than 200 correspondents traveling the globe, investigating the best opportunities for travel, retirement, real estate, and investment.