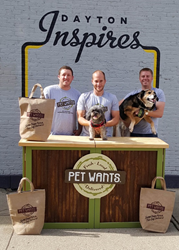 Dayton, OH (PRWEB) May 05, 2016
Three Dayton entrepreneurs are bringing a new, high-quality pet food option to the doorsteps of pet families across the region through the launch of their new business – Pet Wants Dayton. The team is made up of Keith Brandner, Stewart Meeker, and Dan Nourse, who saw Dayton as the perfect location to grow the Pet Wants' brand and an opportunity to provide a unique service to the greater Dayton region.
Pet Wants' pet food, which is produced locally in Ohio, starts out being slow-cooked with small-batch production methods in order to lock in the nutrients every pet needs. The product is shipped fresh to Dayton monthly, and then delivered right to your door, meaning that these critical nutrients aren't lost while sitting on store shelves for months at a time.
"When you go to the store to buy pet food, it's hard to truly determine a food's quality beyond the assumption that the more you spend, the better the quality. We at Pet Wants think the consumer has a right to be more informed, and that's why we take the time to do more than feed your furry family- we want you to understand what's going into your pet's food. We are proud of the ingredients we use, and the quality of our food, and are eager to show you why," Meeker said.
The three partners were raised with the understanding that pets are an extension of the family. From a young age, all three were surrounded by animals. When they came across the Pet Wants opportunity, they realized that it was a perfect fit given their passion for animals and their educational background. They had each spent time studying the various aspects of the pet food industry either through their undergraduate work or while obtaining their MBA's, as well as having a strong entrepreneurial focus. Pet Wants provided them the perfect outlet to combine their various passions.
"We have a tight bond and strong backgrounds that made the Pet Wants opportunity a truly perfect fit. We're eager to bring such a rapidly growing brand to Greater Dayton," Meeker said.
Pet Wants Dayton is the newest extension of the Pet Wants Company, originally founded in Cincinnati in 2010 by Michelle Hobbs. Hobbs created Pet Wants because she wanted to provide proprietary crafted, fresh, slow-cooked, all-natural pet food delivered to customers through a retail store and a convenient, home-delivery service. Hobbs, who now serves as the company's founder, turned the business into a franchise in 2015 due to the rapid growth and success in the Cincinnati market. With the help of Franchise Funding Group, an investment and franchise-development company, Michelle and her Pet Wants team are rapidly growing nationally.
The three owners have strong ties to the Dayton area, having become close friends while starting their careers at Wright-Patterson Air Force Base. They are also active in the community, as members of Generation Dayton, and hope to find new ways to help Dayton grow. They take great pride in the relationships they are building locally, having established relationships with several non-profits and small businesses to date, which is a core value of the Pet Wants' brand.
Pet Wants Dayton currently operates as a mobile-only business, meaning that their website serves as their primary storefront, but they will have a sustained presence throughout the year at various markets and events in Greater Dayton. Their free local delivery service is currently available in Beavercreek, Bellbrook, Cedarville, Centerville, Downtown, Fairborn, Huber Heights, Kettering, Miamisburg, Moraine, Oakwood, Springfield, Troy, West Carrollton, Xenia, Yellow Springs and the surrounding areas.
"We thought launching a mobile business instead of having a storefront was the perfect option for Dayton because we want to not only provide high-quality food to our customers, but also provide the convenience factor. We want to take the last-minute trip to the pet store out of our customer's lives and provide a service where you no longer have to think about it, it just shows up, and there's a familiar face each time," he added.
For additional information about Pet Wants Dayton, to include their full list of products and ingredients, visit their website at http://www.PetWantsDayton.com.
About Pet Wants: Pet Wants was started by Michele Hobbs out of love for her pets and frustration. Veterinarians were unable to help relieve her dog's painful skin allergies. After doing much research, Michele discovered the national dog food brand she trusted was not fresh, not all-natural, and lacked sufficient nutrition...and when pet food sits in warehouses and store shelves for months and months…it loses even more nutritional value. She was committed to developing a better solution for all dogs and cats. Their food is exclusively crafted…fresh, healthy, slow-cooked, all natural, sugar-free, no fillers, and no animal by-products. They source only the best salmon, chicken, lamb, brown rice, and other ingredients. Fresh ingredients make for better food… and better health for pets. And since they never use corn, wheat, soy or dyes, the common pet health problems associated with these ingredients are no longer worries. Their fresh food is conveniently delivered to the customer within weeks of production, not months. Roughly half of Pet Wants products are sold through their store and half through their convenient, home-delivery program. You can learn more at http://www.PetWants.com.