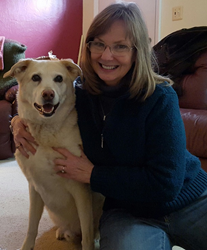 Pet Wants gives me the opportunity to serve local families, provide healthier food for pets and have a career that makes my life more fun. - Michelle Connor
Erie, PA (PRWEB) May 06, 2016
Michelle Connor's journey to become a small business owner all started with looking for a second job to help pay her school loans. But when she came across Pet Wants, she decided the time had come to do something that made her truly happy. Now Michelle is proud to announce the launch of Pet Wants Erie County.
Pet Wants' carefully developed proprietary pet food is slow-cooked with fresh, all-natural ingredients. The company has their distributor make the dog and cat food in small batches once per month so every kibble is guaranteed to be fresh and packed with nutrition. Pet Wants Erie County's mobile delivery program serves the entire Erie County region.
A decade ago, after her husband lost his battle with cancer, Michelle went back to school to better support herself and her son. She majored in social work – where she researched pet therapy – and found a job at a local university after graduation, but she was ready to do something that left her inspired every day.
"Even though I worked with a great group of people in the advancement department doing very worthwhile work, something was missing for me on a personal level," Michelle said. "I came across the Pet Wants franchise and, after many months of thinking about it and talking to the Pet Wants team, I realized it was time to do something that really spoke to me. Pet Wants gives me the opportunity to serve local families, provide healthier food for pets and have a career that makes my life more fun."
In addition to being made fresh monthly, Pet Wants only sources the best salmon, chicken, lamb, brown rice and other ingredients available. There's also no sugar added, no fillers and no animal by-products. And, since Pet Wants never uses corn, wheat, soy or dyes, the food is a great fit for pets with allergies.
"There are good pet foods out there, but even if you buy top-of-the-line products, you still don't know how long it's been sitting on a shelf. You can't go to Rachel Ray for information or ask your pet if the food is stale, but you can ask me about Pet Wants. Our food is fresh, high quality and made in a plant in Ohio that has never had a recall. When you open the bag, you can tell it's fresh. It's actually smells like food," Michelle said.
"In addition to selling a great product, Pet Wants gives me the opportunity to educate my community about the importance of great pet nutrition and what really sets Pet Wants apart," she added. "I'm also looking forward to working alongside my son, Ryan, who will be helping with deliveries."
Pet Wants Erie County is a franchise of the Pet Wants Franchising System. Pet Wants originally launched in Cincinnati in 2010. Owned by Michele Hobbs, the business was built to provide proprietary crafted, fresh, slow-cooked, all-natural pet food delivered to customers through a retail store and a convenient home-delivery service. Hobbs, now the company founder, turned the business into a franchise in 2015 with the help of Franchise Funding Group, an investment and franchise-development company designed to help entrepreneurs scale their companies nationally as franchise systems.
For additional information about Pet Wants Erie County, call (814)636-9826, email MConnor(at)PetWants(dot)com or visit http://www.PetWantsErie.com.
About Pet Wants: Pet Wants was started by Michele Hobbs out of love for her pets and frustration. Veterinarians were unable to help relieve her dog's painful skin allergies. After doing much research, Michele discovered the national dog food brand she trusted was not fresh, not all natural, and lacked sufficient nutrition...and when pet food sits in warehouses and store shelves for months and months… it loses even more nutritional value. She was committed to developing a better solution for all dogs and cats. Their food is exclusively crafted… fresh, healthy, slow-cooked and all natural with no sugar added, no fillers and no animal by-products. They source only the best salmon, chicken, lamb, brown rice, and other ingredients. Fresh ingredients make for better food… and better health for pets. And since they never use corn, wheat, soy or dyes, the common pet health problems associated with these ingredients are no longer worries. Their fresh food is conveniently delivered to the customer within weeks of production, not months. Roughly half of Pet Wants products are sold through their store and half through their convenient, home-delivery program. You can learn more at http://www.PetWants.com.