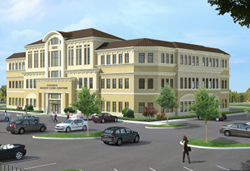 Aventura, Florida (PRWEB) April 28, 2016
Roberto E DeLegault, Managing Member of Phoenix Urgent Care Centers, LLC announced today that Scott + Cormia Architecture and Interiors have been selected as the architects of record for its planned "Urgent Care Centers" and "Medical Office Condominiums". This new concept is considered to be "The Next Future in Healthcare Delivery."
The announcement followed a year-long selection process led by Roberto E. DeLegault, the Managing Member of the Phoenix Urgent Care Centers, LLC and his partners. The group indicated that the final decision was based on three criteria: vision, experience and compatibility with the developer's vision. Ray Scott, AIA and Matthew Cormia, AIA, extensive architectural experience and sensibility, along with their commitment to a collaborative design process, made them perfect partners on this milestone project. Their latest projects are coherent, elegant, accessible and very functional.
The goal in the schematic design phase with Scott + Cormia is to take the concept of medical office buildings to the next level. Emphasis is on personal care and synergies amongst the physicians. The schematic design phase has already started and the construction/working drawings will be executed as each project goes forward.
Matthew Cormia commented: "We are delighted to have been selected for this very innovative assignment. During the selection process we developed an understanding of the developer's vision, and an excitement about being involved with this type of medical office building, bringing something new and valuable to each selected community. We look forward to working with Phoenix Urgent Care Centers and its partners on the complete process, from initial design to completion of construction. The schematic design process will be completed within the next 60 days and will take into consideration all of the new and special features that the developer has envisioned.
About Scott + Cormia Architecture and Interiors. - Scott + Cormia is comprised of passionate architects and interior designers who excel at cooperating with developers, general contractors and private clients. S+C intuitively understands the relationship between structure, function and real estate development. Careful listeners, S+C provide clients option-based solutions that meet their development goals and budgets. A pioneer in solid platonic geometric shapes along with strong color, light and shadows, Mr. Scott continues in the footsteps of the modernist movement integrating raw materials such as stone, wood and new innovative materials to create emotionally sophisticated, functional spaces.
In their words:
If you value and nurture your relationships, everything else takes care of itself. - Matt Cormia.
I love what I do, and I have been very blessed. My passion and desire is to continue onward and assist primarily in the design area of the development process. - Ray Scott.
Having been involved in the design of medical office buildings for more than a decade, it is especially exciting and gratifying to be part of the mission to design what we consider to be "The Next Future in Healthcare Delivery." said Mr. Cormia.
Contact Information
Roberto E DeLegault
Phoenix Urgent Care Centers, LLC
20900 N.E. 30th Avenue, Suite 800
Aventura, Florida, 33180
United States
Phone: 305-905-0000
Roberto(at)PhoenixUrgentCC(dot)com
http://www.PhoenixUrgentCareCenters.com
###
______________________________________________________________________
Disclaimer:
Should you have any questions regarding information in this press release, please contact the person listed in the contact module of this page. Please do not attempt to contact the press release service.
______________________________________________________________________