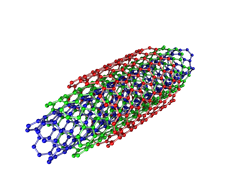 Multiwalled carbon nanotubes (MWCNTs) have a fibrous structure and physical properties similar to asbestos.
Raleigh, NC (PRWEB) April 25, 2016
Research including scientists from multiple Japanese Universities have just released findings suggesting that Multiwalled Carbon Nanotubes (MWCNTs), man-made molecules used in several types of manufacturing, could trigger malignant pleural mesothelioma in much the same way as asbestos. Surviving Mesothelioma has just posted an article on the new research. Click here to read it now.
Previous studies induced mesothelioma in rats by injecting multi-walled carbon nanotubes. But the Japanese team wanted to find out if inhalation of the particles, like an unprotected worker might experience, was just as dangerous.
"Multiwalled carbon nanotubes (MWCNT) have a fibrous structure and physical properties similar to asbestos," writes molecular toxicologist Masumi Suzui who concludes, "Administration of MWCNT to the lung in the rat induces malignant mesothelioma and lung tumors,"
According to the study in Cancer Science, 6 of the 38 rats that inhaled MWCNTs developed mesothelioma and 14 developed lung cancer.
"If there is even a hint of a chance than this material could cause mesothelioma in the same way that asbestos does, it is imperative that workers and employers know about it sooner rather than later," says Alex Strauss, Managing Editor of Surviving Mesothelioma.
For more on the link between MWCNTs and mesothelioma, see New Evidence of Mesothelioma Risk from Inhaled Multiwalled Carbon Nanotubes, now available on the Surviving Mesothelioma website.
Suzui, M, et al, "Multiwalled carbon nanotubes intratracheally instilled in the rat lung induce development of pleural malignant mesothelioma and lung tumors:, April 21, 2016, Cancer Science, Epub ahead of print, http://onlinelibrary.wiley.com/doi/10.1111/cas.12954/abstract