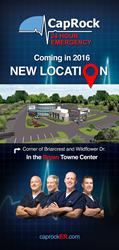 CapRock Emergency, Brazos Valley's preferred ER, is adding a second location!
Bryan, Texas (PRWEB) April 26, 2016
CapRock Emergency (CapRock ER), the only independent freestanding emergency medical facility in the Bryan / College Station area, has announced its plans to open a new, state-of-the-art location within the Bryan Towne Center in Bryan. Opening in late 2016, the facility will only boost the company's reputation as one of the fastest providers of expert emergency care available.
Known for its zero wait times, CapRock ER offers some of the most advanced equipment and services in the industry. The new facility will be equipped with a full radiology suite, including the latest generation low dose CT scanner, Digital X-ray, Ultrasound, and an on-site laboratory certified by the Clinical Laboratory Improvements Amendments. The new location will be conveniently located at the corner of Briarcrest Drive and Wildflower Drive in the Bryan Towne Center.
"We are excited to announce a new location coming to Bryan," said Andy Wilson, CEO of CapRock Emergency, LLC. "We feel this is an important location in the Bryan-College Station area and will help us better serve the emergency needs of the patients in our community."
Dr. Lon Young, Chief Medical Officer for CapRock ER, was quick to add his enthusiasm for the new project. "I was born and raised in Bryan, and I couldn't be more excited that we are expanding this freestanding emergency room concept into another location in the Brazos Valley. I feel strongly that CapRock ER delivers on the promise of fast, comprehensive, skilled, and compassionate ER care, and I can think of nothing better for our patients than to bring this concept to another neighborhood in my home town."
CapRock Emergency, LLC is licensed by the Texas Department of State Health Services as an Emergency Room, and is open 24 hours a day, 365 days a year to serve the emergency medical needs of the patients of the Brazos Valley. It is owned and operated by local physicians and investors in the Bryan and College Station area and is staffed exclusively with board-certified physicians and emergency trained registered nurses. CapRock ER is currently located on William D. Fitch Parkway and Hwy 6 South in College Station. For more information, visit http://www.caprockER.com.
 
MEDIA INQUIRIES:
Amelia McGlone
Email: amelia(at)caprocker(dot)com