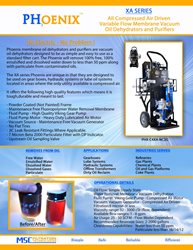 Phoenix makes oil dehydration as simple, portable and easy as using a filter cart!
Enfield, CT (PRWEB) April 26, 2016
MSC Filtration Technologies - a privately owned fluid filtration and separations company based in Enfield Connecticut is pleased to announce the release of its latest model Phoenix XA – Explosion Proof All Air Driven - Membrane Vacuum Oil Dehydrator and Purifier. The Phoenix Membrane Vacuum Dehydrator improves customers rotating equipment reliability by removing 100% free water , 100% emulsified water, dissolved water down to less than 50 ppm, and particulate contamination from gear boxes, hydraulic and lube oil systems continuously and simply.
Water and particulate contamination in lube and hydraulic oils can reduce the life of industrial rotating equipment such as gear boxes to less than half of their normal life leading to expensive forced outages and unnecessary equipment rebuilds and replacements. Standard vacuum oil dehydrators tend to have major benefits over other purification technologies such as water absorbing filters, however up to now have seen limited use due to their bulkiness, complexity, difficulty to operate, and expense to purchase.
The Phoenix Purifier uses a revolutionary and durable Fluoropolymer based hollow fiber technology and vacuum to dehydrate water from oil and provides all the benefits and results of standard oil dehydration but in a simpler, more portable and affordable machine. Because the Phoenix is so simple, compact and portable it can be used to increase the reliability of smaller to medium sized lube and hydraulic systems of 2-2000 gallons including gearboxes with oil viscosities as high as 3000 cSt. These smaller to medium sized oil reservoirs can be just as critical to plant operations as larger oil reservoirs, but up to now may not get the attention or filtration they require due to the draw backs of standard Vacuum Oil Dehydrators or Water Absorbing Filter Systems.
MSC Filtration Technologies is the exclusive manufacturer of the Phoenix Purifier and has produced 110/220V single phase electric explosion proof and non-explosion proof models since 2011, but has found in some cases that compressed air is the best and sometimes only utility available for its customers. The Phoenix XA runs completely on compressed air (including the vacuum generator and the fluid pump) and so is another unique oil purification solution which MSC can offer its customers.
MSC Filtration Technologies has been in business since 1962 and commercialized the Phoenix Membrane Oil Dehydrator back in 2011. Sales have been steadily growing since then for this trans-formative technology which has achieved successful wide industry acceptance and use in a short period of time. It has been purchased and continues to be used in the US and other countries in the following industries:
Marine : Including the US Coast Guard for Ship Board Hydraulic Purification including water removal from EAL Oils.
Paper : Gear Box, Lube and Hydraulic Systems
Steel : Gear Boxes
Power : Windturbine Gear Boxes, Hydro Electric, Fossil Plants
Refineries and Oil Fields : X Proof Phoenix - Compressor Lube Oil Systems
Off Shore Oil Rigs: X Proof Phoenix - Compressor Lube Oil and Hydraulic Systems
Mining : Gear Boxes, Drilling Equipment Hydraulic Systems
General Industrial: Injection Molding and Machine Tool Hydraulic Systems
Mike Assimus (President and Owner of MSC) - says that "MSC is proud to have been on the forefront of membrane vacuum oil dehydration and to have had the Phoenix accepted by so many industries in such a short period of time. MSC is also pleased to have released the world's first all air driven integrated membrane vacuum oil dehydrator and filter cart and plans to continue to do what it does best, which is listening to its customers' requirements and then quickly innovating its products to fit their needs. Our motto is: MSC- Small Company Service but with Big Company Results".
http://www.mscfiltertech.com/phoenix-membrane-oil-purifier
http://www.mscfiltertech.com/phoenix-impact-stories
Keith Benninghoff
OEM & Product Manager
MSC Filtration Technologies
198 Freshwater Blvd
Enfield, CT 06082
Phone: 860-745-7475
Cell: 860-214-5823