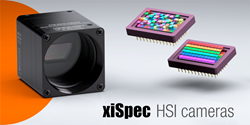 One of the worldwide leading experts in Hyperspectral Imaging, our Juergen Hillmann, is available in person at The Vision Show in Boston from May 3 – 5
MUNSTER, GERMANY (PRWEB) April 27, 2016
XIMEA is renowned for its capabilities to design extremely small, robust and easy-to-use industrial cameras and the smallest hyperspectral imaging (HSI) cameras available today.
Conventional color cameras use a mosaic pattern of red, green and blue (RGB) color filters on top of the pixel matrix. Hyperspectral cameras replace the RGB pattern by many different wavelength filters. While the numerous color filters increase the complexity of the de-mosaicing and reduce the spatial resolution, HSI cameras deliver spectra for individual narrow color bands revealing a different set of information that can also indicate chemical or composition differences of objects of same or similar color imaged by RGB cameras.
From May 2016 XIMEA will offer the all new camera model MQ022HG-IM-LS150-VISNIR of its hyperspectral xiSpec series:
https://www.ximea.com/en/usb3-vision-camera/hyperspectral-usb3-cameras-mini
Instead of using a mosaic pattern of hyperspectral filters, this camera features a line-wise arrangement of 150 HSI bands. Thanks to the high frame rate of the image sensor, this camera enables detailed and crisp captures of moving objects at multiple wavelengths. Thereby the objects can be moved orthogonally to the horizontal color filters of a mounted camera, e.g. on a conveyor belt, or the camera can be attached e.g. to a UAV, which flies over a large area. The visual and near-infrared (NIR) spectrum of this camera is especially relevant in agriculture.
The features of this new xiSpec multi-linescan HSI camera:

Detailed hyperspectral analysis: 150 HSI bands between 470 and 900nm covering the visual and NIR spectrum
Crisp captures of objects passing by the camera, e.g. in drone or conveyor applications: high-speed multi-linescan with up to 1020 lines/sec
Easy and fast system integration: USB3 Vision® compliant including Windows, Linux and MacOS drivers, SDK and USB 3.0 micro-B with screw-lock
Ideal for narrow spaces, mobile or airborne applications: Highly compact (26.4 x 26.4 x 31 mm), lightweight (32 g) and power saving (1.6 W), also available without housing as single-PCB board-level version for even tighter integration.
XIMEA's xiSpec camera is based on the design and technology of the globally field-proven xiQ series of industrial USB 3.0 cameras.
Contact XIMEA personally at The Vision Show in Boston from May 3 – 5 or XPONENTIAL 2016 (UAVSI), New Orleans, May 2 - 5 or via email at sales@ximea.com . Contact us today and find out what HSI can add to your business.
The full release and more documents are available at: https://www.ximea.com/en/products-news/hyperspectral-linescan-camera
About XIMEA
Drawing on two decades of experience in the industry, XIMEA offer consists of state-of-the-art cameras with USB 3.0, USB 2.0, PCI Express and FireWire interface as well as X-RAY, Hyperspectral and Thunderbolt™ technology enabled cameras.
For more than 20 years XIMEA has developed, manufactured and sold standard or OEM cameras for machine vision applications in motion control, assembly, robotics, industrial inspection and security, as well as scientific grade cameras for life science and microscopy.
The main distinction is based on extremely robust way the cameras are built while still providing highest speed like for example the USB3 Vision camera line. Learn more about XIMEA at ximea.com