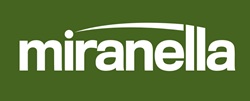 Miranella is a US based health brand that prides itself in helping individuals create and sustain a healthy lifestyle.
Los Angeles, California (PRWEB) April 28, 2016
For many, a diet is only as good as it looks. No matter how healthy the food is, people do not crave it if it does not look good. In addition, an individual cannot deny the importance of maintaining a healthy diet and the team at Miranella knows this all too well.
The team, therefore, has worked to create a product range that could entice people to eat clean and enjoy every moment of eating clean while it lasts. From elegant ceramic kitchenware to state of the art high tech juicers that would put designer cutlery to shame, Miranella has healthy eating all covered now.
Miranella - Bringing You the Wonders of Kitchenware
Targeting every aspect of what makes a healthy diet, Miranella has created a product that compliments each aspect of healthy living perfectly. Juicing, for instance, is an integral part of any healthy diet and its benefits on the body are vast. For example:
Juicing provides an easy and quick way to absorb the immune boosting nutrients that fruits and vegetables possess;
Juicing helps the body get rid of toxins present in the liver and colon.
Juicing loads the body up with energy and reduces stress.
Juicing provides the body with vital nutrients and vitamins that have a life-prolonging positive effect on the body.
One of the popular juicers by the company, the MJ8000S Juicer combines the very best of modern technology with an exquisite elegant design to ensure that users can fully enjoy the life enhancing benefits of juicing. Available in either black or gold color, the MJ8000S even contributes in making every kitchen all the more beautiful.
Going further up the product range, Miranella offers a vast range of stylishly designed ceramic kitchenware that includes luxury knives, woks, and other cutlery. The products have all been created with healthy living in mind. From slicing fresh vegetables to blending favorite fruits, the end users are the key focus of Miranella.
About Miranella
Miranella is a US based health brand that prides itself in helping individuals create and sustain a healthy lifestyle. The brand offers a complete range of modern ceramic kitchenware that adds a touch of style to eating clean and staying in shape. For more information about the company, visit http://www.miranella.com. More information about the range of products offered by the company can also be found on http://www.miranella.com.