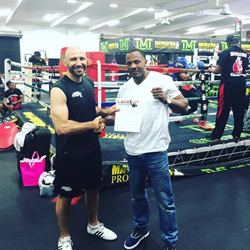 I always knew one day, I would sign with Lace Up Promotions
Lockport, NY (PRWEB) April 27, 2016
Ever since his unprecedented start in combat sports three years ago, Lockport's Joe Taylor has always been devoted to his hometown and community. The son of deceased local boxing legend Johnny Taylor, Joe never followed in his father's footsteps during his lifetime, although the elder Taylor always dreamed of having his son compete.
Johnny Taylor made a comeback to the sport in the late 1990s as a boxing coach at the famous downtown Abdallah's KO Kickboxing and Boxing Club, owned by Amer Abdallah.
"I remember back in 1998 when Johnny was one of our coaches, he would always tell me how he wished Joe would fight. But Joe, being as independent as he was, had a different lifestyle back then. Joe doesn't remember this, but the first time he came into the gym, Johnny introduced him to me," Abdallah said. "I shook his hand and was amazed at the brute strength and grip of his handshake, being so young. I've had my eyes on him ever since that day."
Fast forward 15 years to 2013, Johnny Taylor had passed away and Joe decided to fulfill the hopes and dreams his father had for him. Joe had gone through a period of time in his adolescent years of frequent run-ins with the law and a troubled upbringing. He decided never to go back to that life again and visited the man his father introduced him to almost two decades ago: Amer Abdallah.
"We sat in my office at the Lockport Athletic Club and talked. I didn't know how serious he was, so I put him through a training regimen, which he aced. I pushed him a bit further and he trumped that as well. The more I pushed him, the more he rose to the occasion. I knew we had something special with Joe," Abdallah said.
Abdallah had stopped coaching fighters and resumed his own professional career, so he called upon one of his star pupils, Corey Webster, who was running WNY MMA, to begin coaching Taylor. Webster gladly opened his doors and began working with Joe. Taylor also used his father's former student and now friend, Kendrick Huston to help train him and fill in the times he couldn't make it to the gym.
Since that day, Joe Taylor has captured the WKA Amateur National Tournament Championship, IKF Classic Tournament Championship, New York State Golden Gloves title back-to-back, and, most recently, competed and won a gold medal in the WKA Amateur World Championships in Spain. The only logical next step was to turn to the professional ranks.
Taylor recently flew out to the Lace Up Promotions' head office in Las Vegas to meet with longtime friend and advisor Amer Abdallah.
"It took us almost no time at all to agree to terms we were both happy with. What most people don't understand is this is a business disguised as a sport. Often fighters and people around them forget that. My job isn't just to get Joe fights, but to ensure he's financially comfortable," Abdallah stated.
Taylor made it official and is now fighting under the Lace Up Promotions banner as a professional prizefighter.
"I always knew one day, I would sign with Lace Up Promotions," Taylor said. "When it comes to trusting someone, you either do or you don't. I just want to fight, make money and become a world champion. I'm honored to be on the team and thank everyone that supports my dream."
Taylor was welcomed and congratulated at the Mayweather Boxing Club by Dewey Cooper and other members of Abdallah's team.
Taylor will make his professional debut on the undercard of Amer Abdallah's world title fight on May 14 at the Kenan Arena.
For more information and to follow Lace Up Promotions, follow them on Facebook at Lace Up Promotions or on their website at http://www.LaceUpPromotions.com.