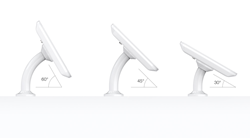 The Shell range is one of our securest ranges, and an incredibly popular solution amongst businesses
Poole, Dorset (PRWEB UK) 26 April 2016
imageHOLDERS Shell range is a highly secure iPad kiosk and tablet enclosure solution, suitable for busy environments. The Shell is perfect for any business that wants to secure tablets in situations without constant supervision. The Shell range sits as standard at a 45 degree, well suited to most applications and environments.
In response to a project requiring the tablet enclosures to be securely mounted at a 60 degree angle, imageHOLDERS designed a secure new arm to provide a range of different angles the enclosure can be mounted at, allowing for a varied application of the enclosure. The 30 degree viewing angle is a perfect solution for businesses wanting users to utilise the tablet enclosure from a standing position. This solution is well suited to be used as an information point within leisure and retail environments as well as airports and libraries.
The 45 degree viewing angle is the standard viewing angle, ensuring a versatile solution for consumers to use either sitting or standing. For businesses intending for the viewing angle to suit users who wish to view at a lower angle, the 60 degree viewing arm is the perfect solution. This would be suitable for wheelchair users and works well within a hospitality environment providing a secure and stylish solution.
Peter Thompson, Director, imageHOLDERS said: "We designed the 60 degree viewing arm in response to a project with a major fast food chain to create an incredibly secure tablet enclosure to be used as a leisure enclosure for surfing the web and playing games. We then created the 30 degree arm to increase engagement for users wanting to use enclosures quickly whilst standing. The Shell range is one of our securest ranges, and an incredibly popular solution amongst businesses."
The Shell and Shell + range is extremely flexible and can be counter mounted, wall mounted or freestanding to meet customer requirements.
The ranges are available in different size variations to cover a multitude of different tablets available in today's market, including but not limited to Apple iPads, Microsoft Surface, Samsung Galaxy Tabs and Google Nexus. imageHOLDERS recently delivered a Shell+12 enclosure for schools to use as an access control registration by integrating a contactless reader and fingerprint scanner with a Microsoft Surface 3. The Shell + range is suitable for larger tablets like the iPad Pro 12.9", but can also fit a smaller tablet and a device such as a NFC or contactless card reader.