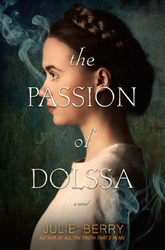 Sandy, UT (PRWEB) April 25, 2016
Young adult author Julie Berry will visit Waterford School on Monday, April 25, to present to students about her recent new release. Students will have the opportunity to learn about the historical research behind the novel and have a copy signed. The Passion of Dolssa, published by Viking Children's Books, is a sweeping historical thriller set during 13th Century southern France. Berry, who now lives in the Los Angeles area, visits Waterford as part of a three-day visit to Utah, with events at The King's English in Salt Lake City on Tuesday evening and at The Provo Library on Wednesday evening.
The Passion of Dolssa has been called "a transcendent reading experience" by Nancy Werlin, New York Times bestselling author and National Book Award honoree. Jennifer Donnelly, bestselling author, says the novel is "powerful and heartbreaking. Julie Berry writes the past as if she lived it." Publishers Weekly gave the book a starred review, saying, "Berry again delivers an utterly original and instantly engrossing story." The Horn Book in another starred review called it "irresistibly compelling," and the Bulletin of the Center for Children's Books, in yet another starred review, called it "a skillfully crafted and tenderly told story of faith and friendship tested." Altogether The Passion of Dolssa has netted five starred reviews, with Kirkus also praising it as an "immersive and mesmerizing read." It has been chosen as a Junior Library Guild selection, and will be published internationally in Australia.
The Passion of Dolssa paints a dangerous triangle of characters: Dolssa, a mystic; Botille, a peasant; and Lucien, an inquisitor. Dolssa, the mystic, is convicted as a heretic for refusing to deny her visions, but she manages to escape her execution, and flees as a fugitive across southern France, hunted at every step by Lucien, the inquisitor determined to watch her burn. Botille finds Dolssa half-dead by a riverside, and, moved by compassion, nurses her back to health. She hides Dolssa from the obsessed inquisitor, but his interrogations of unsupecting peasants only tighten his noose and draw him closer to his prey. Botille slowly realizes that her act of kindness implicates her in heresy, too; her choice to help someone in need could cost her her life, and the lives of her family and everyone in their little village who has come to believe in Dolssa's goodness.
The Passion of Dolssa is Berry's 9th title, and it follows the 2014 Roaring Brook release of her widely praised farcical middle grade mystery, The Scandalous Sisterhood of Prickwillow Place, recipient of an ALA Odyssey Honor, as well as the 2013 Viking release of her highly acclaimed YA novel, All the Truth That's In Me. All the Truth received many accolades including: Kirkus Reviews Best Teen Book for 2013, 2014 Edgar Award nomination, a Carnegie Medal shortlisting, Australia's Silver Inky prize, a YALSA Best Fiction for Young Adults Top Ten title designation, a Junior Library Guild selection, a School Library Journal Best Book of 2013 mention, a Horn Book Fanfare 2013 title designation, and a 2014 TAYSHAS Top Ten pick. The author's previous titles include The Amaranth Enchantment (Bloomsburv 2009), Secondhand Charm (Bloomsbury, 2010), and the Splurch Academy for Disruptive Boys series (Penguin Books, 2010-11).
Julie Berry holds a BS from Rensselaer in communication and an MFA from Vermont College in writing for children and young adults. For more information, visit http://www.julieberrybooks.com.