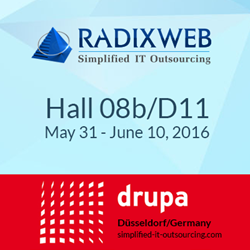 Meet team Radixweb at Hall 08b/D11 drupa 2016, to define, design and implement right IT strategies & better IT investments that drive greater business value.
(PRWEB) April 28, 2016
Driven by the critical role technology is playing in business growth, Radixweb is poised to exhibit a robust IT Strategy Consulting expertise along with the industry leading innovative technology portfolio for print businesses at drupa 2016, scheduled to be held from 31 May – 10 June 2016 at Düsseldorf/Germany. Companies experienced team who has years of IT industry experience in helping printing organizations worldwide to define the right technology and formulate business strategies will be on hand to meet with show attendees at Hall 08/D11. Drupa 2016 attendees can book an appointment now.
"Innovation breeds business and technology lead the way for it. In this digital age, business needs technology to be sustained. The way to embrace innovation in business is to do something smarter and different leveraging advanced technology like mobility, cloud computing and IoT. To quickly use these technology advancements to outperform the competition, one need right IT consulting partner. We are bringing our 16+ years of IT experience to the drupa 2016 exhibit floor where we will help print service providers to define right strategy and make better IT investments which help to seize technology into competitive advantage. Featuring breakthrough innovations, well-defined strategies and extensive print industry experience at Hall 08b/D11," commented Dharmesh Acharya, COO, Radixweb.
Drupa 2016: Radixweb Show Highlights:
Web Application Development
Bespoke Software Development Services
Application Modernization
Application Integration Services
Web Designing & Development Services
Software Maintenance Services
CRM / MIS Integration & Customization
Radixweb's team at Hall 08b/D11 will have a one-one consultation with drupa 2016 attendees and discuss the importance of automating print business process using advanced technologies to create sustainable change and assist booth visitors in defining strategies to make better IT investments. Make sure to book an appointment.
About Radixweb
Established in 2000, Radixweb is a leading software product development and IT Outsourcing services provider. The company delivers a complete range of IT services and enterprise-class solutions to clients from SMEs to fortune 500 companies across the globe. Radixweb key Service offerings include Bespoke Software Development, Embedded Software Development, Software Product Development, Web & Desktop Application Development, Application Performance Optimization and more.
Due to consistent and reliable service delivery, the company earned credentials like Microsoft Gold Partner, Kentico Bronze Partner, nopCommerce Partner, ISO Certification for quality processes and Adobe Solutions Partner.
For details, please visit http://simplified-it-outsourcing.com