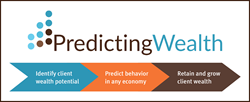 The Predicting Wealth™ platform provides firms with a scientific way to identify clients with the highest potential for building wealth across all market segments.
Atlanta, GA (PRWEB) April 28, 2016
Data Points announced today the release of its Predicting Wealth™ platform, which provides the financial services industry a scientific way to identify clients with the highest potential for building wealth across all market segments. The platform delivers analytics on the financial behaviors of clients and predictive assessments to drive financial success.
"Firms and advisors recognize the link between individual financial behaviors and wealth accumulation. Our platform is the first of its kind to use predictive analytics to identify clients that have a high likelihood for building wealth over time, regardless of their age, income, or percentage of wealth that they have inherited," stated Data Points' founder and President, Sarah Stanley Fallaw, Ph.D.
The platform houses Data Points' proprietary assessment content, including the Building Wealth™ test, designed specifically to identify clients with a high potential for building wealth as described in the New York Times bestselling book, The Millionaire Next Door. "Financial services companies that rely solely on investable assets and other demographics to pinpoint client wealth potential are leaving out critical behavioral factors," stated Dr. Fallaw. "By using Data Points' behavioral-based assessments, companies can identify and target high-wealth-potential clients before they move into the high- and ultra-high-net-worth groups."
In addition to identifying client wealth potential, Predicting Wealth™ provides clients with automated financial coaching based on their assessment results: personalized, developmental recommendations to improve their paths to wealth based on investing, saving, and spending behaviors. "Results from the Financial Planning Performance Lab studies clearly show that clients with the greatest wealth potential engage in common financial management behaviors. Identifying and encouraging clients to engage in these behaviors is an important way to improve financial outcomes for clients," stated Dr. John Grable, professor of Financial Planning at the University of Georgia, and advisory board member for Data Points.
As a software-as-a-service product, the Predicting Wealth™ platform integrates with other technology platforms, including through front-end delivery on a firm's company website or through a client portal. For more information about the Predicting Wealth™ platform, please visit http://www.datapoints.com/products/.
About Data Points
Data Points is a privately-owned, Atlanta-based behavioral analytics firm. Our technology allows financial services firms and advisors to identify and develop client wealth potential. Our solutions are based on the 40 years of data that fueled the New York Times best-selling books The Millionaire Next Door and The Millionaire Mind. Our patent-pending, Predicting Wealth™ platform delivers scientifically-created assessments and generates market and individual client feedback to drive financial success.