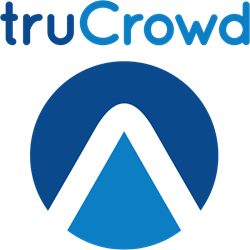 "[...] the regular investors (non-accredited) will be the primary source of funds for early stage companies"
Chicago, IL (PRWEB) April 26, 2016
TruCrowd, Inc - the equity crowdfunding portal allowing any US company to raise funds from non-accredited investors, announced today that it has been selected as one of the finalists to participate at the Washington, DC Crowdfunding Demo Day. During the event TruCrowd 's CEO will explain how startups can use equity crowdfunding to raise capital by spending a minimal amount of dollars up front. Will talk about the advantages as compared to other capital raising methods and present the portal's integrated services and features.
"Under Regulation Crowdfunding, Funding Portals will play an important role for Main Street entrepreneurs that wish to seek funds from their immediate community and don't want or need all the ancillary services (or added costs) of a broker-dealer." Says Mr. Sherwood Neiss, General Partner at Crowd Capital Venture Fund (LinkedIn) "TruCrowd represent a viable alternative from Broker-Dealers for these Main Street businesses particularly with their backend deal room technology and controls over protecting sensitive data."
TruCrowd has several features built to protect the intellectual property of startups (NDA, ID-verified Investors, DataRoom) while decreasing both the risk of fraud (Twitter-like Q&A, Regulatory Checks) and the risk associated with startup investing (The Bonus feature, IRA).
"By many estimates, in the US, the non-accredited investors will be the primary source of funding for early stage companies," explains Vicent Petrescu, CEO of TruCrowd."When 135 million Americans already familiar with investing will invest in early stage companies, an average of $1,000 per year, it will translate into $135 billion capital available for US startups. Compare this amount with the $80 billion invested by Angel/VCs (2015)."
TruCrowd, Inc is inviting anyone interested to attend RSVP here and join us on Day One of this new industry that will create new jobs, a new segment of mini-angel investors and will consolidate the national economy.
About TruCrowd:
TruCrowd.com is the leading funding portal that allows any company from US to raise up to $1 million per year from non-accredited investors (anyone). Launched in 2013 to operate under the regulations resulted from JOBS ACT of 2012, TruCrowd built its crowdfunding engine to permit scalability and flexibility.