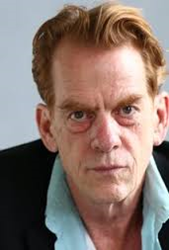 "You are there for the same purpose," says Murphy," they want you to succeed as much as you want to succeed ..so let go of your fear bring whatever you have to the table."
New Orleans, La (PRWEB) April 25, 2016
Celebrity Thomas Francis Murphy (12 YEARS A SLAVE, TRUE DETECTIVE, TERMINATOR GENISYS) has learned a few techniques in his career about auditioning for different roles. Although he worked his way up in theater, when he started auditioning for television and film it felt like an entirely different process. Murphy says, "Auditioning is hell, but you have to get used to it. In the world of TV and Film, in particular, you are likely to walk into rooms with producers and casting directors who very much have an idea of how a character walks or talks and how the scene is "supposed to go". Your fear of the distance between yourself and what you believe they are looking for is your biggest obstacle."
The first tip for new actors is to understand acting is about obstacles. Never waste them. For example if your biggest fear is the distance between yourself and what you believe the producers and directors are looking for work on that. "You are there for the same purpose," says Murphy," they want you to succeed as much as you want to succeed so let go of your fear bring whatever you have to the table."
Another important part of auditioning is to understand you can't act an idea. The veteran actor says, "You have ideas about a character i.e. he might get excited and anxious when something is important to him and he rushes his speech, etc. You can rehearse that at home, but when you walk into a room your job is to forget about all that and relax." Relaxing is key to being able to deliver the kind of performance that will be exactly what you want to communicate.
The most important tip is to forget about any pre-ordained character traits you have in your mind. "You'll be outside of yourself furiously trying to match up what it is going on in the present moment with some image of how things should be, says Murphy, "You'll be unavailable and you won't be in the room. You'll be inside your head and that is what everyone else will see."
About Thomas Francis Murphy: while living in Little Rock, AR, Murphy decided to take an acting class. The class changed his direction in life and acting became an enduring preoccupation. He spent over 20 years on the East Coast with a paintbrush in one hand and a script in the other while pursuing a career in the theatre. He picked up a degree along the way and trained with Shakespeare& Co of Lenox, MA then spent years performing in off off Broadway houses in New York where his work in the plays of Sam Shepard garnered high praise in the New York Times and several other publications.