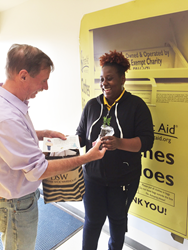 Baltimore, MD (PRWEB) April 25, 2016
International nonprofit Planet Aid announced today that it helped customers celebrate Earth Day on April 22 by giving out tree saplings.
"People were pleasantly surprised that we were offering free saplings," said Planet Aid Thrift Center Regional Retail Manager Tom Gentry. "Some were not aware it was Earth Day and thanked us for the reminder. We hope that over the years, these saplings we have given out will grow into beautiful trees, and can be a source of joy for years to come, while also helping the environment."
The Planet Aid Thrift Center, located in Baltimore, Maryland, accepts donations of lightly used clothing, accessories, shoes, books, games, home décor and more. The store, which opened a little more than six months ago, has already seen great success in the Baltimore community as a much-needed source for stylish and affordable clothing.
At any time, about 50,000 items are displayed at the spacious and brightly lit thrift center, all of which are for sale at a very reasonable price. The proceeds from the sales support international development projects in Africa, Latin America, and Southeast Asia.
In addition to the Thrift Center, Planet Aid has thousands of yellow clothing donation bins in 21 states across the continental United States. The unwanted clothing and textiles dropped into those bins are recycled and sold, and the money raised from this also funds those international initiatives.
Eighty-five percent of unwanted clothing in America currently ends up in a landfill, and Planet Aid aims to shrink that number as much as possible.
The Planet Aid Thrift Center is located at 5425 Baltimore National Pike, Baltimore, MD 21229.
About Planet Aid
Planet Aid is a U.S. 501 (c)(3) nonprofit and is registered with USAID as a private voluntary organization. It collects and recycles used clothing and shoes as part of its environmental mission. The net proceeds from its 21-state recycling operation help to support projects aimed at eliminating poverty. Since its inception in 1997, Planet Aid has provided more than $100 million to support projects on three continents. Planet Aid supports programs in education, teacher training, nutrition and agricultural and economic development.