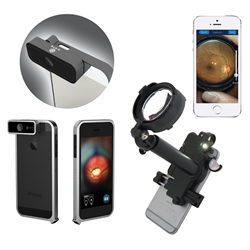 Current technology has virtually removed physical location and the investment in cumbersome medical equipment as an obstacle to viewing and diagnosing patients' eye health.
Dunedin, FL (PRWEB) April 27, 2016
For nearly a decade, iViews Imaging System, LLC, has been providing digital imaging solutions for Eye Care professionals working in hospitals, universities, private clinics, and VA centers across the nation. The company provides solutions for Ophthalmology Imaging Applications for tablets, smartphones, PAC Servers, warranty, training, customer services, and support programs incorporating over 170 instruments. The iViews Imaging solutions allow Regional or Global Collaboration for the possibility of better outcomes.
There is an increasing interest and demand for portability of the instruments. Smartphones have been drawing the attention from this eye care medical community and iViews Imaging. Eye-care professionals have asked for a solution to capture, transmit, and view patient images, in compliance with HIPAA, for the past few years.
These two solutions have risen to the top for use:
The iViews Paxos™ Scope Solution and the iViews D-EYE Ophthalmic Solution, streamline the extended or local clinical patient workflow for most eye care professionals.
The iViews Paxos™ Scope Solution-
The Paxos™ is a powerful smartphone add-on imaging device that allows physicians and researchers to monitor patient data in real time with iViews.
"Current technology has virtually removed physical location and the investment in cumbersome medical equipment as an obstacle to viewing and diagnosing patients' eye health," says Dr. James M. Nielsen, of Nielsen Eye Center in Clearwater, Florida. "Imaging plays a critical role in eye care and overall patient health. The inclusion of iViews Imaging software with the Paxos™ Scope as a tool for our physicians and techs, allows us to take retinal images in our clinic and in any location outside our office, so that we can care for patients beyond our four walls."
The Paxos™ Scope is a reimbursable service for remote imaging for monitoring and management of active retinal disease. Physician use of DigiSight's mobile ophthalmic camera with qualified patients is a covered service under CPT codes and details can be found at the http://www.DigiSight.net.
Paxos™ Scope is the first and only combined anterior and posterior segment mobile imaging system available for smartphones, incorporating advanced technology licensed from Stanford University. This cost-efficient system features secure storage, a built-in variable intensity light source for patient comfort and a universal mounting and alignment mechanism that can yield up to a 56-degree static field of view. (Business Wire, DigiSight Technologies Introduces the Paxos™ Suite of Products for Remote Patient Care, Nov 12, 2015)
The iViews D-EYE Ophthalmic Solution-
The D-EYE "digital eye" mobile sensing and examination device, paired with iViews Imaging software, is a powerful supplemental tool for Ophthalmologists. D-EYE works on the principles of direct ophthalmology and leverages the smartphone autofocus capability to account for a patient's refractive error. No longer do physicians need to rely solely upon expensive and bulky tabletop units to acquire retinal images of patients. (Journal of Ophthalmology, A Novel Device to Exploit the Smartphone Camera for Fundus Photography, May 21, 2015)
Smartphone ophthalmoscopy with the D-EYE system can accurately detect retinal lesions for diabetic retinopathy (DR) and may be used as a screening tool for DR. (American Journal of Ophthamology, Efficacy of Smartphone Ophthalmoloscopy, August 8, 2014)
The Athens Retina Center in Athens, Georgia will be using both iViews Imaging and D-EYE in the clinic and clinical teaching at the St Mary's Hospital. Dr. Mohan N. Iyer understands that staying up-to-date with technology keeps the clinical and the hospital patient workflow smooth. "The portability of D-EYE combined with the iViews Imaging System is a natural evolution in eye-care treatment, management and diagnoses; giving our clinic a comprehensive view of our patients' overall eye health, literally, at a glance, from anywhere. This is an enormous benefit for our patients whether they are in the office or a long distance away."
iViews Imaging System, LLC, provides technology that adds value and time saving solutions for eye-care professionals. We continue to increase our product line with affordable and solid solutions for eye-care professionals and general practitioners.
For more information or a demonstration of these solutions contact us today at our website or call 727-734-8393.