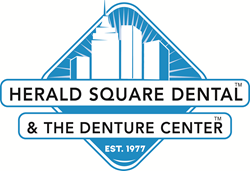 Smile with confidence
New York, NY (PRWEB) April 25, 2016
This year for Oral Cancer Awareness Month, Herald Square Dental is encouraging prevention by performing oral cancer screenings during the last week of April 2016 at the reduced cost of $39* (regularly $96).
Oral cancer does not discriminate according to age, race or gender. Early detection of oral cancer is most important because it provides a greater chance that treatment will be successful.
Symptoms include non-healing sores and growths and patches on oral tissues, gums or the tongue. Herald Square Dental's professionals will use Velscope screening exams to detect these abnormal cells before they develop into sores or lesions. Velscope screens for abnormal changes in the oral tissues so they can be treated before they develop into something more serious.
Herald Square Dental feels strongly about prevention and has been offering oral cancer screenings for years. To prevent oral cancer, Herald Square Dental suggests visiting a dentist every six months for a routine checkup that includes an oral cancer screening and adjunctive oral cancer screening with Velscope.
To learn more, reach out to the staff at Herald Square Dental or visit their website: http://www.heraldsquarecosmeticdental.com/.
*Must mention this article to take advantage of the special pricing. Expires 4/30/16. Please call their Midtown Manhattan dental office at 212-689-0024 to schedule an appointment today!
About the company:
Herald Square Dental is a full-service dental office offering everything from porcelain veneers and orthodontic care, including Invisalign, to implants that replace missing teeth entirely. They are also well-known for quality dentures custom-fabricated right on the premises. Conveniently located in Herald Square in the heart of New York City, Herald Square Dental has been known as New York's place for quality cosmetic dental care and same-day dentures since 1977. They are equipped with all the technology and comfort to optimally restore beautiful smiles successfully, affordably, quickly and conveniently. Dr. Pasch, Dr. Yam, Dr. Shirzadnia, Dr. Song and their friendly staff are highly trained in fixing chipped, cracked or stained teeth with lovely new veneers. At Herald Square Dental, they offer a wide range of affordable dental makeover options, including natural-looking porcelain crowns, tooth bonding and tooth-colored composite fillings. Visit their website today for more information, http://www.heraldsquarecosmeticdental.com/.