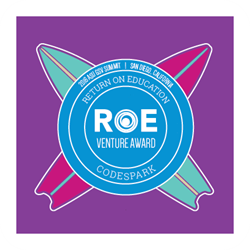 The entire GSV Summit experience was phenomenally valuable for us, and GSVlabs has been the place where we can go farther, faster.
San Diego, CA. (PRWEB) April 26, 2016
Young learners worldwide are gaining mastery of core computer science concepts by developing their own video games on a new, creative platform from Pasadena-based educational technology company, codeSpark. A member of the EdTech Innovation Lab at GSVlabs, codeSpark, won last week 1 of 3 Venture Awards presented at the 7th Annual ASU GSV Summit in San Diego, beating the field of over 300 companies that were selected to present at this leading global event.
With over 3,500 attendees and keynotes by Bill Gates and Condoleezza Rice, venture stage companies from around the world participated in pitch competitions that were scored based on GSV's "4P's" framework for identifying the stars of tomorrow: People, Product, Potential, and Predictability. These critical measures identify companies such as codeSpark that are delivering both opportunities for substantial growth and essential Return on Education (ROE) for learners worldwide.
The codeSpark team ignites ROE for young children by turning complex computer programming concepts into play with its signature software, The Foos. With no reading necessary, The Foos has been downloaded over 2 million times in 172 countries, and in just 18 months. Learners as young as 4 years old are empowered to become active creators of the very games they would normally consume - as a result, 35,000 games a day are coded on The Foos by creative, curious, and coding-proficient children.
"This award is a huge honor for codeSpark, given the intense competition," says CEO and Co-Founder Grant Hosford. "Winning has immediately sparked several conversations with investors and partners. The entire GSV Summit experience was phenomenally valuable for us, and GSVlabs has been the place where we can go farther, faster."
codeSpark is one of 50+ companies at the EdTech Innovation Lab at GSVlabs, where venture stage companies come to apply innovation approaches that transform education with technology. In addition to enabling fledgling companies to present the ideas they nurtured in the EdTech Lab, GSVlabs offers comprehensive curriculum for entrepreneurs seeking launch and market expertise, a world class network of mentors, and strategic partnerships with leading corporations such as Intel, AT&T Aspire, Google Developers Launchpad, Declara, and JetBlue Technology Ventures. With access to industry-specific resources and networks, startups in the GSVlabs community are given a head start in this competitive, dynamic field.
The EdTech Innovation Lab at GSVlabs is led by General Manager, Kathy Benemann and operated by Program Manager, Michael Narea.
GSVlabs is a global innovation center based in Silicon Valley that accelerates startups and connects corporations to exponential technologies, business models, and entrepreneurs. Its 72,000 square-foot facility houses over 150+ startups and partners. A global innovation platform, GSVlabs works with individuals, startups, and corporate partners to accelerate their growth, and is focused on key technology verticals, including Big Data, Sustainability, Education Technology (EdTech), Entertainment and Mobile. GSVlabs also houses three accelerators including ReBoot Career Accelerator for Women, Core Labs Game Accelerator, and GSVlabs Pioneer Accelerator with Google Developers Launchpad.