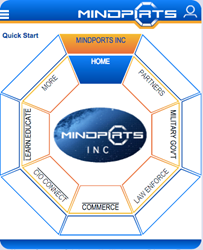 We believe Mindports® will prove a critical component in the digital business transformation of the competitive 21st Century enterprise and institution.
Cambridge, MA (PRWEB) April 27, 2016
Mindports® today announced a new partnership program offering the Mindports Information Equity™ platform and interface to business productivity partners for integration and use in diverse vertical markets. Mindports® is designed to capture and integrate enterprise management knowledge, accelerate team collaboration without email or messaging, reduce training costs, and increase the productivity of sales and service personnel in the field.
The Mindports platform incorporates a new mobile-first human-machine interface enabling any user to easily and rapidly organize, access, discover, and share structured dynamic information on computers and mobile devices. It is modeled upon and mirrors human categorical thinking in order to simplify, accelerate, and institutionalize knowledge capture, transfer, and training within teams and organizations. Once fully integrated, it begins to unify user and software intelligence and operations in historically new ways.
As a fundamental mobile-first business productivity and efficiency tool, Mindports® is also capable of providing significant benefits that serve commercial, governmental, and institutional operations and requirements, accelerating and coordinating project delivery and emergency response while institutionalizing efficient operations and reducing waste. A company spokesperson stated, "We believe Mindports will prove a critical component in the digital business transformation of the competitive 21st Century enterprise and institution."
On mobile devices, mindports eliminate page turning, scanning, scrolling, and sizing during the navigation process, creating additional productive hours of effective sales, service, or management time, and reduces data usage and costs.
ABOUT MINDPORTS: The patented Mindports® Platform and the Mindports® Portal have been developed in conjunction with leading scientists and institutions in their field to offer efficient knowledge capture, access, and discovery for enterprise operations, smartphones interfaces, intelligent advertising banners, automotive interfaces, distance learning, digital textbooks, kiosks, IOT and industrial controls, medical bedside care, wearables, and smart building management. For law enforcement and intelligence agencies, mindports coordinate and accelerate investigation and emergency response while increasing situational awareness. In government and education, mindports simplify global knowledge distribution and training, foster government transparency and enable contextual portals in rich overlays for unlimited expansion of document pages, maps, or diagrams.
Mindports® is free for all to share public information on the Web, and offered, in calculable negative cost installations, with advanced capabilities as an SaaS or network application for private corporate, institutional,and government use. Extended free trial periods are offered to law enforcement and intelligence. To serve humanitarian purposes, the company is developing a non-profit arm and foundation at mindports.org utilizing Mindports® technology.
Mindports® is built with HTML 5 for Chrome on Android, and works on iOS 9 and Windows 10, and on Safari and IE 10 and 11. Current browser versions of Chrome or Safari are required. Use IE 10 or IE 11 as required. See Web comments on iPad limitations for loading certain types of websites.
Contact Us for Business Development and Licensing
Mindports Portal [Loads with the M*Web consumer mindport. See "Learn about Mindports" in the main menu.]