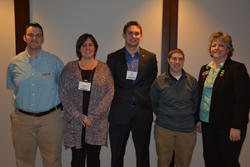 NYSATA is very proud to announce that eight more NYS secondary schools and their athletic trainers were recognized nationally with 1st Team Safe Sports School Award honors!
Rochester, NY (PRWEB) April 26, 2016
The Safe Sports School Award is a National Athletic Trainers' Association (NATA) initiative, launched three years ago to promote sport safety and injury prevention for youth athletes, as well as athlete and parent education at the secondary school level. As part of the 2015 Athletic Training Recognition Week last fall, the New York State Athletic Trainers' Association (NYSATA) announced funding for up to ten complete and successfully submitted applications for the Safe Sports School Award for Secondary Schools. As part of National Athletic Training Month (NATM) 2016 this March, NYSATA is very proud to announce that eight more NYS secondary schools and their athletic trainers, who were already taking the crucial steps to keep their student-athletes safe, took advantage of the NYSATA funding to apply and were recognized with 1st Team Safe Sports School Award honors!
Please help NYSATA congratulate the newest Safe Sports Schools in NYS: Amsterdam High School and Carla Pasquarelli, ATC; Brockport High School and Jason Wentworth, MEd, ATC, CSCS; Eastridge High School and Jarett Rhoads, MSEd, ATC, CSCS; Gloversville High School and Dave Haverly, ATC; Hendrick Hudson High School and Meg Greiner, MS, ATC; John Jay High School and Phillip Stamatis, ATC; White Plains High School and Michael Mirabella, MS, ATC, CSCS; and Woodlands High School and Eric Bailey, ATC. (Those not pictured will be presented with their Awards later this spring at their respective schools.)
Prior to NYSATA assisting with funding, there had only been seven Safe Sports School (SSS) Award recipients in the state of New York (Emma Willard School, Horace Mann School, Poly Prep Country Day School, Riverdale Country School, The Dalton School, William Floyd High School and Yorktown High School), so this NYSATA initiative has more than doubled the number of recipients in NYS. Additionally, there is funding remaining for two more NYS schools, so please encourage your school to apply!
For those who are interested, any secondary school may apply and SSS Award applications must be signed by the school's principal or athletic director and the athletic trainer (AT) or team physician. Schools may earn a 1st Team or 2nd Team Safe Sports School award, depending on whether they have acted on all recommended and required elements versus required elements only within ten categories of sports safety and healthcare management: Create a comprehensive athletic health care administrative system; Provide or coordinate pre-participation physical examinations (PPEs); Promote safe and appropriate practice and competition facilities; Plan for selection, fit, function and proper maintenance of athletic equipment; Provide a permanent, appropriately equipped area to evaluate and treat injured athletes; Develop injury and illness prevention strategies, including protocols for environmental conditions; Provide or facilitate injury intervention; Create and rehearse venue-specific Emergency Action Plans (EAPs); Provide or facilitate psychosocial consultation and nutritional counseling/education; Educate athletes and parents about the potential benefits and risks in sports as well as their responsibilities.
NYSATA, founded in 1976 and incorporated in 1989, stands to advance, encourage and improve the profession of athletic training (AT) by developing the common interests of its membership for the purpose of enhancing the quality of healthcare for the physically active in NYS. Athletic training is practiced by certified athletic trainers (ATs), who have expertise in the assessment, emergency management, rehabilitation and prevention of acute and chronic sport-related injuries, illnesses and conditions, including concussions. Comprised of over 1,200 certified and practicing athletic trainers, NYSATA is the state-wide affiliate of the regional Eastern Athletic Trainers' Association (EATA) and District Two of the National Athletic Trainers' Association (NATA).