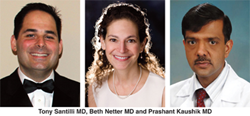 By incorporating the practices of Yoga Science into my daily life, I have learned how to transform the negative energy of stress into a positive, life-affirming creative force. --Tony Santilli MD
AVERILL PARK, NY (PRWEB) April 26, 2016
Relieving and preventing physician burnout through Yoga Science as holistic mind/body medicine will be a major focus of The American Meditation Institute's (AMI) eighth annual CME conference on October 25-29, 2016 at the Cranwell Resort and Spa in Lenox, Massachusetts. Entitled "The Heart and Science of Yoga," this comprehensive 30 credit hour training is accredited through the Albany Medical College Office of Continuing Medical Education. In addition to a core Yoga Science curriculum including meditation, diaphragmatic breathing and gentle yoga exercises, three testimonial lectures will be presented by Tony Santilli MD, Beth Netter MD and Prashant Kaushik MD—each of whom has successfully used Yoga Science techniques to reduce and eliminate their own physicians burnout symptoms. —each of whom has successfully used Yoga Science techniques to reduce and eliminate their own physicians burnout symptoms.
According to a recent article in Webscape News & Perspective Dr. Arthur Caplan, founding head of the Division of Medical Ethics at New York University Langone Medical Center in New York City, claims that physician burnout is "a public health crisis." Caplan explains that, "We've got a problem in this country with doctors. It's kind of an epidemic, but no one is talking about it. It is burnout. A recent study from the Mayo Clinic showed that in 2011, 45.5% of doctors reported that they felt burned out, and that number has now risen to 54.4% in 2014. More than half of all doctors in this country are saying, 'I really feel that some aspect of my work as a doctor is making me feel burned out.'"
This year's American Meditation Institute "Heart and Science of Yoga" CME conference is dedicated to providing physicians a quality, comprehensive and evidence-based education that prevents and reverses the debilitating causes and effects of physician burnout. Lectures include mantra meditation, diaphragmatic breathing, easy-gentle yoga, Yoga psychology, meditation and neuroplasticity, PTSD, trauma, resilience, chakra system therapy, mind function optimization, epigenomics, Ayurveda, nutrition, functional medicine, and lymph system detoxification. According to last year's attendee, board certified psychiatrist Jay Newman, MD of Towson, Maryland, "This was absolutely the best conference I have ever attended. It was a superb presentation of Yoga Science by presenters who are very passionate in sharing their knowledge. I wish I took this course years ago! I will take it again in the future."
Each faculty member at this year's CME conference is committed to the advancement and training of Yoga Science as holistic mind/body medicine. Presenters will include program director Leonard Perlmutter, AMI founder, meditational therapist and award-winning author; Mark Pettus MD, Director of Medical Education and Population Health at Berkshire Health Systems; Anthony Santilli MD, board-certified in Pulmonary and Critical Care Medicine; Prashant Kaushik MD, board-certified Rheumatologist; Sara Lazar PhD, instructor in the Department of Psychiatry at Harvard Medical School, and an Associate Researcher in the Psychiatry Department at Massachusetts General Hospital; Susan Lord MD, a private practice holistic physician focusing on prevention and treatment, and former course director for the The Center for Mind-Body Medicine's "Food As Medicine" program in Washington, DC; Jesse Ritvo MD, Assistant Medical Director, Inpatient Psychiatry, University of Vermont Health Center; Beth Netter MD MT, holistic physician and acupuncturist, Albany, NY; Jyothi Bhatt BAMS, Ayurvedic practitioner and faculty member of Kripalu School of Ayurveda and Physician's Assistant at New York Presbyterian/Weill Cornell Medical Center; and Jenness Cortez Perlmutter, faculty member of The American Meditation Institute.
Since 1995, program director Leonard Perlmutter has lectured extensively on the health benefits of meditation and yoga as mind/body medicine, including talks at the M.D. Anderson Cancer Center, Albany Medical Center, Stratton VA Medical Center, Berkshire Medical Center, University of Colorado Medical School, University of Wisconsin School of Nursing, Washington University Medical School, the United States Military Academy at West Point, and the Commonwealth Club of California. He also served on a distinguished New York Times panel of Yoga experts with Dr. Dean Ornish. Noted physicians Mehmet Oz (Dr. Oz), Dean Ornish, Bernie Siegel and Larry Dossey have endorsed Mr. Perlmutter's treatise on Yoga Science, which serves as the primary curriculum for the conference.
According to Perlmutter, "Now in its eighth year, this CME conference provides the only complete curriculum of the world's most ancient mind/body medicine. The more consistently the therapeutic practices of Yoga Science are incorporated into the daily lives of physicians and patients, most symptoms of stress related burnout and chronic complex diseases can be diminished or eliminated."
-30-
About the American Meditation Institute
The American Meditation Institute is a 501(c)3 non-profit educational organization devoted to the teaching and practice of Yoga Science, meditation and its allied disciplines as mind/body medicine. In its holistic approach to wellness, AMI combines the healing arts of the East with the practicality of modern Western science. The American Meditation Institute offers a wide variety of classes, retreats, and teacher training programs. AMI also publishes "Transformation" a bi-monthly journal of meditation as holistic mind/body medicine. Call 518.674.8714 for a mail or email subscription.
Media Contact:
Robert Washington
60 Garner Road
Averill Park, NY 12018
Tel: 518-674-8714
Fax: 518-674-8714