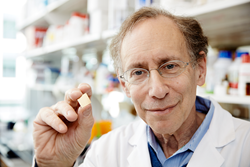 Robert Langer's invention unlocks a new generation of medical treatments as a powerful weapon against cancer.
CAMBRIDGE, Mass. (PRWEB) April 26, 2016
The European Patent Office (EPO) today announced that M.I.T. Professor Robert Langer has been named as one of three finalists for the European Inventor Award 2016 in the category "Non-European countries." The winners of the 11th edition of the EPO's annual innovation prize will be announced at a ceremony in Lisbon on June 9th.
A new generation of anti-cancer drugs "starves" tumors by interrupting their connection to the body's blood supply. But as a downside, these so-called angiogenesis inhibitors lose efficacy while traveling the bloodstream before reaching tumors. A "smart" drug delivery method invented by American biotechnologist Robert Langer (67) solves the problem. It encapsulates cancer-starving drugs within "wafers" created out of biodegradable plastics. Implanted right at the tumor site, they dissolve for targeted release. And, cancer-fighting drugs are really just the beginning for the M.I.T. professor who is regarded as a pioneer in an emerging field of medical technologies. Langer's bioplastics can also be shaped into ingestible capsules, cardiovascular stents, and into "scaffolding" supporting the growth of new body tissue.
"Robert Langer's invention unlocks a new generation of medical treatments as a powerful weapon against cancer," said EPO President Benoît Battistelli announcing the European Inventor Award 2016 finalists. "On the way to a medicine of the future, the concept of biodegradable plastics provides doctors with new and previously unthinkable approaches that are already changing treatment outcomes around the world."
TARGETED TREATMENT FOR BRAIN CANCER
Thanks to Langer's innovation, doctors now have a powerful weapon against an aggressive form of brain cancer known as glioblastoma multiforme (GBM). GBM is both particularly difficult to treat due its proximity to healthy tissue and relatively prevalent: it accounts for 52% of all primary brain tumors. Approved for clinical use in 1996, Langer's ingenious method allows GBM to be targeted at the tumor site, precisely delivering drugs in exact dosages without exposing healthy tissue to aggressive chemicals. The biologically tolerable polymers are now the building blocks for previously unthinkable treatment approaches, especially targeted drug delivery.
STARVING TUMORS AT THE SOURCE
The idea of starving tumors with angiogenesis inhibitors is not a new one. As early as 1971, Robert Langer and other physicians saw their potential for stunting tumor growth. But as tests soon revealed, the effectiveness of angiogenesis inhibitors declines radically when injected or ingested. Plus, in the case of brain tumors, transporting the drugs past the blood-brain barrier proved an additional challenge. In order to solve the problem, Langer and his team at the Massachusetts Institute of Technology envisioned a delivery vector that would transport the drugs right where they are needed: the site of the tumor.
After researching the emerging field of bioplastics, Langer zeroed in on so-called Poly(beta-amino ester)s, a family of biodegradable polymers that can be moulded via nanotechnology into a wafer-like form. During minimally invasive surgery, doctors implant the drug-laden wafer next to the tumor, where it is gradually broken down by the body's metabolism, thereby releasing its payload of cancer-starving drugs with maximum efficiency. This method not only avoids the blood-brain barrier altogether, but it also solves a second problem: the powerful cancer drugs can have neurotoxic effects – harming healthy brain tissue – if delivered in an untargeted manner.
A NEW ERA OF TARGETED MEDICINE
The innovation ushers in a new era of targeted therapies for ailments such as cancerous tumors and heart disease. Doctors can now integrate powerful drugs into moldable bioplastics wafers that dissolve at exactly the right location to release their payload. "You get high concentrations in the brain where you want them," explains Langer. "And low concentrations in the rest of the body where it might cause harm." During Langer's clinical trials, patients with GBM achieved a survival rate of 63%, compared with 19% in the control group. To date, over 20 million patients worldwide have been treated with angiogenesis-inhibiting substances, and therapies derived from Langer's bioplastics, including drug-coated cardiovascular stents, have benefited more than one million.
HEAD OF WORLD'S BIGGEST BIOMEDICAL ENGINEERING LAB
Robert Langer started his career with a BSc in Chemical Engineering at Cornell University in 1970, followed by his PhD in Chemical Engineering at MIT in 1974. Although his interest in bio-polymers started as a young researcher, Langer spent almost 28 years perfecting the implantable bioplastics technology after publishing his first findings – US FDA approval final came in 1996 – and he experimented with over 200 variations of polymers at M.I.T.'s Folkman laboratory in the first two years alone. Named the most-cited engineer in history by Science magazine, the prolific inventor has authored over 13,000 articles and contributed to 1,100 patents, with inventions licensed by 300 pharmaceutical companies. His publications have been cited over 194,000 times.
A constant advocate of bridging the gap between research and the marketplace, Langer leads the world's largest biomedical engineering lab – the David H. Koch Institute at M.I.T. – with over EUR 8.9 million (US $10 million) in annual grants and over 100 researchers. His inventions jumpstarted a new class of treatments for GBM, prostate cancers, endometriosis, and mental illnesses with considerable market success. The bioplastics-encapsulated drug Gliadel (GBM) generated sales of around EUR 32.5 million (US $35.8 million) in 2006, Zeneca Zoladex (prostate cancer) netted around EUR 905 million in 2013, and Risperdal Consta (schizophrenia) EUR 1.4 billion in 2014. Third-party analysts expect the GBM treatment market to grow from about EUR 273 million in 2013 to EUR 566 million by 2020.
ADDITIONAL RESOURCES:
YouTube video on Robert Langer
Additional video and photo material
Read more about the inventor
View the patents: EP1639029, EP2075015
FIGHTING CANCER WITH PATENTED TECHNOLOGIES
Robert Langer's bioplastic-coated drugs are part of a new wave of medical technologies that provide safe and efficient alternatives to radical surgery and aggressive chemotherapy. Nano capsules, proton radiation, ultrasound, antibodies, and more: Innovative concepts, protected by patents, are already benefitting patients worldwide.
Read more about new weapons against cancer.
About the European Inventor Award
About the European Patent Office (EPO)