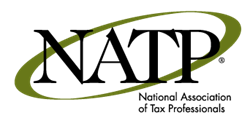 "It's not an easy exam, but we are here to help our members who want to earn their EA do exactly that, with greater ease and less stress." - Cindy Hockenberry, EA, NATP Director of Education & Research
APPLETON, WI (PRWEB) April 26, 2016
In keeping with its commitment to the success of all tax preparers, the National Association of Tax Professionals (NATP) is pleased to announce the release of a new member benefit for prospective enrolled agents. Enrolled agents have unlimited rights to represent taxpayers before the IRS and are experts in the field of federal taxation.
All current and new members of NATP will receive free access to the EA Part I Review Course. This self-study course is designed to help those who are interested in taking the first step toward earning their EA designation. The EA exam, also known as the Special Enrollment Exam (SEE), includes three parts that test expertise in individual and business federal tax and ethics.
The EA Part I Review course reflects the layout of the actual exam, covering individual income, deductions and credits; individual taxation; estate tax; and gift tax. The course includes an electronic version of the EA Part I Review textbook, digital flashcards, interactive practice exams and EA exam information and interactive test-taking tips. Along with these features, members will also have access to supplemental materials and information and Q&A chat presentations to further enhance their EA studies.
"As an enrolled agent myself, I can attest to the benefit of earning this designation," said Cindy Hockenberry, EA, NATP Director of Education & Research. "It's not an easy exam, but we are here to help our members who want to earn their EA do exactly that, with greater ease and less stress."
As an organization committed to the success of all tax professionals, NATP looks forward to continuing to provide first-class support and tools to tax professionals everywhere.
To receive the new NATP member benefit, visit natptax.com/ea.
##end##
About NATP
NATP is the largest organization dedicated 100% to tax professionals and their success. NATP members work at offices that assist over 12 million people worldwide with tax preparation and planning. Formed in 1979, NATP's member base has grown to almost 23,000 and includes individual tax preparers, enrolled agents, certified public accounts, accountants, attorneys and financial planners. The national headquarters, located in Appleton, Wisconsin, employs over 50 professionals. For more information on the organization, visit natptax.com.