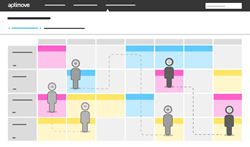 Optimove's Customer Journey Marketing Plan enables the data-driven execution and evaluation of all marketing actions across all journeys, with all the information required to plan, execute and oversee winning personalized marketing campaigns.
Birmingham, England (PRWEB) April 27, 2016
At the Internet Retailing Expo today, Optimove, the leading Customer Marketing Cloud, announced the launch of its Customer Journey Marketing Plan, an innovative new tool to help customer-centric businesses visualize, manage and optimize customer conversions according to "infinite customer journeys." While the traditional approach to managing customer journeys relies on a number of static, linear customer journey maps, customers in the digital, cross-screen age can actually take an infinite number of different journeys along an ever-evolving and dynamic map, and Optimove's new Customer Journey Marketing Plan enables marketers to design customer marketing campaigns based on this new reality.
Optimove's new Customer Journey Marketing Plan is designed specifically to support infinite customer journeys through an interactive interface that more closely resembles a terrain-based map than the linear, funnel-based maps that have traditionally represented most customer journeys. This new interpretation of the customer journey provides more accurate customer coverage with greater flexibility and adaptability by accounting for where each customer is on their current journey rather than where they fall on a particular funnel or linear path. Optimove's Customer Journey Marketing Plan enables the data-driven execution and evaluation of all marketing actions across all journeys, with all the information required to plan, execute and oversee winning personalized marketing campaigns.
"Companies are usually exuberant when they believe they nailed their customer journey map," said Pini Yakuel, founder and CEO of Optimove. "But in reality each customer forges his own unique journey, and in order to stay relevant companies need to reach out to every customer with the right message at the right touchpoint along that personal journey. The new Optimove Customer Journey Marketing Plan now gives marketers this essential ability."
Optimove is built to empower marketers to deliver granular and emotionally intelligent customer marketing campaigns to targeted micro-segments of customers. The Customer Journey Marketing Plan enables marketers to interact with all customer segments through automated and real-time multi-channel communications, regardless of where customers are in their journey towards conversion, retention and loyalty. This closed-loop marketing engine delivers significantly improved results across all marketing KPIs and a loyal customer base that keeps coming back for more.
The additional features of the Customer Journey Marketing Plan provide a new level of on-site information and drill-down possibilities, including:

The Journey Mapping ability allows marketers to visualize infinite customer journeys, and to understand customer flow across all touchpoints. Feedback on campaign results and other metrics across these journeys, as well as information about customer coverage and KPIs enable marketers to continuously hone their customer marketing.
A new Summary Area provides a 360° view of how well your marketing plan is doing this week. It delivers up-to-date information in terms of increase and personalization, a review of all or filtered campaigns according to any chosen KPI (e.g. the total increase in revenues from all Facebook campaigns); test vs. control group performance, number of targeted customers and personalization score.
The Filtering Tool filters the entire calendar to show only a specified set of target groups and campaigns. This powerful feature allows users to focus on and understand the results of specific channels, customer segments and campaign types.
The Campaign Sidebar delivers a detailed description of each campaign, including the increase value and snippet from campaign analysis, excluded customers, execution details and template preview. Campaign notes offer easier commenting and collaboration.
A new level of Status Flow Indication will be exhibited in the marketing plan for each campaign, to distinguish between scheduled, processing, running and completed tasks. This real-time information is a valuable operational tools, allowing marketers to handle failures and problems as they occur, ensuring a smooth and flawless operation.
The new Customer Journey Marketing Plan upgrade is a main feature of Optimove version 4.5, now available to all of the company's 180 clients. Read more about how to manage infinite customer journeys by visiting http://www.optimove.com/blog/managing-infinite-customer-journeys.
About Optimove
Optimove's Customer Marketing Cloud is used by over 180 customer-centric brands to drive their entire customer marketing operation. Optimove combines the art of marketing with the science of data to enable marketers to deliver highly-effective personalized customer marketing campaigns through email, mobile, the Web, Facebook and other channels. Optimove's unique customer modeling, predictive micro-segmentation and campaign automation technologies help marketers maximize customer spend, engagement, retention and lifetime value. From 2014 to 2015, Optimove's staff grew by 60% and revenues more than doubled. The company has offices in Tel Aviv, New York and London. Learn more at http://www.optimove.com.
# # #
Press Contact:
Matt McAllister
Fluid PR
510-229-9707
matt(at)fluidspeak(dot)com