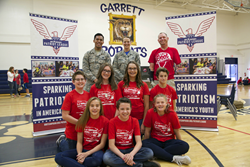 Dallas, Texas (PRWEB) April 28, 2016
Boot Campaign is expanding its groundbreaking educational program, Patriot League, designed to foster patriotism and support of the U.S. Military with kids across America. In addition to helping teachers and professional educators, Patriot League is reaching out to Parent Teacher Associations, Boy Scouts, Girl Scouts and all adult leaders of youth programs who want to take advantage of this free program to spark patriotism among America's youth.
Patriot League empowers youth-group leaders, teachers, and parents to promote patriotism through an activity program perfect for classroom or structured group involvement, including creative projects and community service opportunities. Patriot League provides K-12 grade-appropriate plans at no cost to all public, private and home schools, PTAs and youth groups who register here: https://www.tfaforms.com/410959
Continuing to support the Patriot League movement is philanthropic powerhouse Vh1 Save the Music Foundation and celebrity ambassador Atticus Shaffer, star of ABC's "The Middle."
"In today's volatile world, it's more important than ever to educate our children about how fortunate they are to be Americans, and how to take pride in their country, value their freedom, and understand the risks and sacrifices of the brave service members who make it possible," says Boot Campaign CEO Robyn Payne. "We're thrilled that Patriot League can now assist even more adult leaders, parents and teachers with the tools needed to instill patriotism fundamentals within our youngsters, and we look forward to helping inspire new generations to come."
"Patriot League is an inspiring kid-centered program which provides and easy and fun way to boost student knowledge about our service men and women, and what it means to be a patriot," says Shaffer. "The result is a fun, fresh way to increase student's knowledge about the military that protects their freedoms, while enhancing their sense of patriotism and giving back. Join the Patriot League!"
Certified teachers created Patriot League's lesson plans with true patriotic spirit, including: Diana Rambaldi (Nutley, N.J.), whose original classroom project inspired Patriot League; Susan Patterson (Biloxi, Miss.), retired educator with more than 25 years serving students; and Melissa Spencer (Tyler, Texas), former teacher and current Boot Campaign director with her finger on the pulse of promoting patriotism for all ages.
For information on how to register for or donate to Boot Campaign's free Patriot League program, please visit http://www.bootcampaign.org/patriotleague.
About Boot Campaign
Established in 2009, Boot Campaign is a national 501(c)(3) charitable organization dedicated to promoting patriotism for America and our military community; raising awareness of the unique challenges service members face during and post-service; and providing assistance to military personnel, past and present, and their families. Retail sales of combat boots, apparel, and mission-focused merchandise, general public donations, and corporate sponsorships fund programs that support military families. Learn more at http://bootcampaign.org and join the #BootsOn community on Facebook, Twitter and Instagram @Bootcampaign.
About Vh1 Save The Music Foundation
The Vh1 Save The Music Foundation is a nonprofit committed to ensuring that music instruction is a core component to a complete education. Since 1997, we have partnered with more than 1900 public schools in 231 school districts to give children the tools and confidence to excel in academics and in life. #PassTheNote and get involved at vh1savethemusic.org join the conversation on Facebook, Twitter and Instagram @vh1savethemusic.