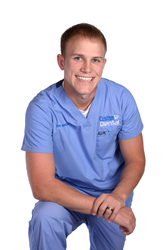 Oklahoma City, OK (PRWEB) April 25, 2016
Patients with missing teeth are now invited to receive dental implants in Oklahoma City, OK from respected general and cosmetic dentist, Dr. Carson Nail. A dental implant is a tooth replacement that is inserted directly into the jaw and provides superior strength and reliability when compared with other tooth replacement methods. Many people choose to receive implants for their missing teeth because they look natural and are a highly functional replacement option.
More than 170 million Americans are missing at least one tooth. Not all of these individuals with missing teeth are candidates for dental implants in Oklahoma City, OK, and patients who are interested in the procedure must first undergo an evaluation. Dr. Nail carefully examines each patient's mouth and learns more about their oral and medical history before determining if implants are the best treatment option for them. Those who do receive dental implants can typically expect them to last for many years or even the remainder of their lives with sufficient care.
Implants offer many benefits over other commonly-received treatment options for lost teeth, including improved function, natural appearance and comfort. They are also as easy to care for as natural teeth, and are intended to be brushed and flossed on a regular basis. Each implant is anchored into a patient's jawbone using a titanium post. This material forms a bond with the bone to prevent deterioration and inspire growth. Since implants are remarkably sturdy and do not need to be glued or pasted in place on the surface of the gums, they also make it easier to enjoy foods that might otherwise have to be avoided.
Dr. Nail encourages patients with missing teeth to receive a consultation and find out if dental implants in Oklahoma City, OK are a viable treatment option for them. Consultations can be arranged by giving his practice a call at 404-546-3228.
About the Doctor
Dr. Carson Nail is a general and cosmetic dentist offering personalized dental care to patients in Oklahoma City, OK. Dr. Nail and the entire Custom Dental team, take pride in offering the latest technology and techniques paired with quality, compassionate care. Dr. Nail performs a variety of cosmetic dentistry procedures including dental implants and full smile makeovers along with individualized general dental care. Dr. Nail graduated from the University of Louisville School of Dentistry and is a member of numerous dental organizations including the Oklahoma Dental Association, the American Dental Associations and the Academy of Implant Dentistry. To learn more about Dr. Nail or the services he offers please visit his website at http://www.southokcdentist.com or call (405) 546-3228 to schedule an appointment.