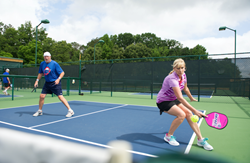 10th Largest Pickleball Community in the World
Knoxville, Tennessee (PRWEB) April 26, 2016
Tellico Village is playfully in a pickle over next month's pickleball tournament, one of the finest waterfront retirement communities in Tennessee according to Real Estate Scorecard. This pickleball community has taken the game to a new level. For some players, it's a fast sport, combining badminton, tennis, table tennis and wiffle ball. But for others, it's simply fun exercise. It can also be a mind game that combines skill and strategy.
The 11th Annual Tellico Village Pickleball Club Championship Tournament will be held May 13-15th and promises to a tremendous amount of fun. Round Robin competitions will be held on five courts (A1, A2, B1, B2 and C). Participants of all ages are welcome and there is a $5 fee to enter.
A grand prize will be awarded to the "Best-Dressed" team playing in the Tournament. This prize is awarded to one Team in each of the following categories: Men's Doubles, Women's Doubles, and Mixed Doubles. Singles will not be considered. Those wishing to compete in this new award category must be able to play their matches while dressed in their garb. While great costumes are welcomed, safety remains the top concern.
Each team will play all other teams. The top two teams in each category will have a playoff medal match. Here's a breakdown of the matches:
Friday May 13 - Singles all age skill levels
Saturday May 14 – Men's and Women's/Doubles all age and skill levels
The pickleball community at Tellico Village is the 10th largest Pickleball Club in the world, with more than 450 members. Competition for the Tellico Village Pickleball Club is played on eight tournament-sized dedicated courts in a beautiful setting.
Anyone interested in starting the game can attend monthly training sessions. During those sessions, qualified pickleball instructors help beginners to pick up the basics of the game, while intermediate/advanced players are assigned a level to play with similar skill level people during daily play sessions. Most instructors give players the freedom to come up with their own lesson plan, by suggesting a skills and strategy session that is available each week based on skill level. As one progresses through the different skill levels, players begin to get coaching in the advance techniques including and strategies.
Another reason Real Estate Scorecard affirms Tellico Village is the best place to retire in Tennessee is that it promotes individual and community wellness that enhances the quality of life in a super-sized way by offering a long list of recreational activities. Swimming, racquet sports, clubs, cards, dancing, fitness, art and much more. The 7000 year-round residents of Tellico Village have developed and organized over 400 leagues and social groups to accommodate any recreational taste.
Their 27,000 square foot Wellness Center offers a state-of-the-art location for fitness and fun with a spectacular view of the Smoky Mountains. The Wellness Center has a six-lane, 25-yard indoor swimming pool and a smaller, warm-water therapeutic pool. The large exercise room is equipped with cardio and weight equipment and an indoor walking track. There is also a walking track outdoors around the center. The spacious fitness class studio offers a wide variety of dance and movement classes, yoga, Tai Chi and much more. The Wellness Center also features four Har-Tru tennis courts, pickleball courts (hosting the Tellico Village Pickleball Club, the fastest growing group in the Village) and roomy, full-service men's and women's locker rooms and saunas.
Those are just some of the health and wellness reasons Tellico Village is one of the best places to retire in Tennessee. Others include the Tellico Village area itself in addition to the three championship golf courses, Yacht Club and marinas. The Tellico Lake area offers a unique combination of mountain and lake geography, mild four season weather and outstanding recreational facilities on one of the best boating lakes in Tennessee.
Tellico Village is just 31 miles southwest of Knoxville. It is also conveniently minutes away from two major highways, I-75 and I-50 providing residents with fast access to major cities like Nashville, Asheville and Atlanta.
The low cost of living is another reason budget conscious retirees are drawn to the village. Residents are not inputed with expensive Tennessee golf club memberships or costly social clubs. Monthly dues are the village are paid a-la-carte. If folks don't use it, they're not paying for it and POA dues are $117 a year.
Tellico Village has a large variety of homes to choose from or folks can build a new one. Property choices include lakefront and golf course homes or private wooded homes. The natural beauty of the area adds incredible curb appeal, the combination of Tellico Lake and with views of the Smoky Mountains.
If pickleball is a favorite sport, or they just want to give it a try, visit Tellico Village during the upcoming tournament and find out why it's the best place to retire in Tennessee.
Call Tellico Village directly at 888.287.0676 to schedule a tour.
About Real Estate Scorecard:
Real Estate Scorecard writes unbiased real estate reviews providing in-depth information about popular gated communities in Florida, Georgia, the Carolinas, Tennessee and in Central America, all in an effort to help people discover where to retire in the South.
Website: http://realestatescorecard.com