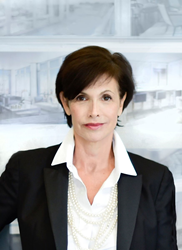 (PRWEB) April 26, 2016
Ginger Brokaw, a licensed real estate agent in the Upper East Side, New York City, market, has joined the prestigious Haute Living Real Estate Network.
The Haute Living Real Estate Network (HLRN) of Hauteresidence.com is proud to recognize Ginger Brokaw as a prominent real estate professional and the network's newest partner. HLRN unites a distinguished collective of leading real estate agents and brokers, highlighting the most extravagant properties in leading markets around the globe for affluent buyers, sellers and real estate enthusiasts.
About Ginger Brokaw:
Ginger Brokaw is a top luxury residential real estate broker in New York City, ranked by The Real Deal as one of the "Top 75 Brokers in New York City" and by the Wall Street Journal as one of "America's Best Real Estate Agents in New York." She is also a member of the elite New York Residential Specialist Group®, the highest professional credential for residential agents in New York City designated by The Real Estate Board of New York.
Brokaw has built a reputation as a hardworking, intelligent broker, who is known for providing exceptional, personalized service in residential and investment real estate for buyers and sellers throughout Manhattan. She is recognized for her broad knowledge of the market, exemplary performance, consummate professionalism, and the highest professional and ethical standards.
Prior to her career in real estate, Brokaw was an equity trader for prominent arbitrage and equity firms on Wall Street for more than two decades. Her knowledge of markets, cycles, and trends paired with her professional negotiation skills are a strong asset to her structuring and effecting successful real estate transactions.
Brokaw represents a diverse, domestic, and international clientele that is predominantly referral based, a testament to her talent and commitment to redefining truly remarkable service. Her extensive knowledge of Manhattan's real estate paired with a strong focus on transaction management and comprehensive marketing strategies for her exclusive sales set her apart.
"Real estate transcends the ability to find a home for a buyer or market and sell a property for an owner. Real estate sales are multifaceted, business transactions which combine financial, personal, and emotional elements that require consistent management to ensure successful results."
Brokaw is a consummate New Yorker who is truly passionate about her town. A resident of the Upper East Side, she knows every neighborhood of New York City intimately. Her broad knowledge of the city is highly valued by her clients, who enjoy her warmth, approachability, and candor. She is always available to answer their questions on a broad range of topics. Outside of the office, Brokaw is dedicated to her family, friends, and in her spare time, enjoys theater, modern art, architecture, design, travel, and a passion for cooking.
To learn more, visit Ginger Brokaw's Haute Residence profile: http://www.hauteresidence.com/member/ginger-brokaw
About Haute Living Real Estate Network (HLRN):
Haute Living Real Estate Network (HLRN) of Hauteresidence.com offers readers the most prominent directory of experienced realtors, brokers and luxury listings, and HLRN has grown to be the number one source for real estate news, residential developments, celebrity real estate news and more. Seeking an experienced interior designer? Hauteresidence.com is also home to Haute Design Network (HDN), a collective of celebrated interior designers that will help you decorate your new home or stage an active listing.
Access all of this information and more by visiting: http://www.hauteresidence.com