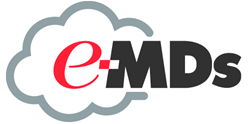 By achieving CVO certification, we are ideally positioned to serve our clients in every facet of revenue cycle management.
Austin, TX (PRWEB) April 26, 2016
e-MDs, a leading provider of ambulatory electronic medical record (EMR), practice management (PM) software, revenue cycle management (RCM) solutions, and credentialing services, announced today that its MDeverywhere CVO has successfully completed their bi-annual NCQA Credentials Verification Organization (CVO) review and has been awarded the NCQA CVO certification through May, 2018.
"Achieving CVO certification from NCQA demonstrates that e-MDs' MDeverywhere CVO has the systems, processes and personnel in place to thoroughly and accurately verify providers' credentials and help health plan clients meet their accreditation goals," stated Margaret E. O'Kane, President, NCQA.
CVO Certification is a voluntary review process. It includes rigorous on-site evaluations conducted by a team of health care professionals and certified credentialing specialists. Certification evaluates a CVO's management of various aspects of its data collection and verification operation, and the process it uses to continuously improve the services it provides. e-MDs' MDeverywhere CVO received NCQA Certification for 10 out of 10 verification services.
"Our dedicated credentialing team is pleased to have once again met the stringent requirements of the NCQA CVO review process," said Michael Liter, e-MDs Senior Vice President of Operations. "While the word "quality" is touted often, e-MDs' clients are indeed receiving a quality CVO service enabling them to meet their credentialing program and delegation requirements. The proof is in our NCQA Certification."
"Credentialing is the first step in a provider's revenue cycle management process," commented Derek Pickell, CEO of e-MDs. "We are pleased to provide our clients with such a high quality service that is sanctioned by one of the top quality monitoring agencies in healthcare. By achieving CVO certification, we are ideally positioned to serve our clients in every facet of revenue cycle management. We are committed to ensuring our clients maintain a financially healthy practice while they ensure their patient population remains healthy also!"
About e-MDs
e-MDs is a leading provider of integrated electronic health records, practice management software, revenue cycle management solutions, and credentialing services for physician practices and enterprises. Founded by physicians, the company is an industry leader for usable, connected software that enables physician productivity and a superior clinical experience. e-MDs software has received top rankings in physician and industry surveys including those conducted by the American Academy of Family Physicians' Family Practice Management, AmericanEHR™ Partners, MedScape®, and Black Book®. e-MDs has a proven track record of positioning clients for success as demonstrated by Meaningful Use attainment in 2011, 2012, 2013 and 2014. According to data provided by CMS, e-MDs clients are attesting in the top proportion of all major vendors. For more information, please visit http://www.e-mds.com, http://facebook.e-mds.com and https://twitter.com/emds.