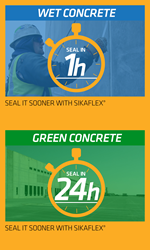 Sika USA now offers solutions for sealing wet and green/new concrete.
(PRWEB) April 27, 2016
Sika USA now offers solutions for sealing wet and green/new concrete. Sikaflex 1c SL and Sikaflex 1a+, are polyurethane based products that perform without any priming or additional preparation steps.
These products can be applied to wet concrete 60 minutes after rainfall and to new concrete 24 hours after pour. Sikaflex 1c SL is self-leveling and specially designed for horizontal joints. Sikaflex 1a+ can be used in a wide variety of vertical and horizontal applications including saw cut joints, formed joints and expansion joints.
For more information, please visit http://www.sikaflex.com
About Sika: Sika AG, located in Baar, Switzerland, is a globally active specialty chemicals company. Sika supplies the building and construction industry as well as manufacturing industries (automotive, bus, truck, rail, solar and wind power plants, façades). Sika's product lines feature high‐quality concrete admixtures, specialty mortars, sealants and adhesives, damping and reinforcing materials, structural strengthening systems, industrial flooring, as well as roofing and waterproofing systems. Worldwide local presence in over 90 countries and more than 17,000 employees link customers directly to Sika and guarantee the success of all partners. Sika generated annual sales of CHF 5.49 billion in 2015.