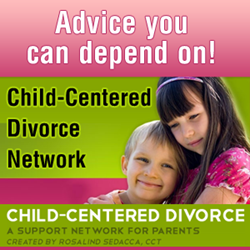 I help parents tackle the complex maze of divorce challenges by choosing strategies that support everyone in the family.
West Palm Beach, FL (PRWEB) April 27, 2016
Rosalind Sedacca, CDC, a Certified Divorce Coach recognized as The Voice of Child-Centered Divorce, has announced the 10-year anniversary of the Child-Centered Divorce Network, a support resource for parents who are contemplating, moving through or transitioning after divorce.
Sedacca, who founded the network for separating or divorcing parents in 2006, works closely with an international community of therapists, attorneys, mediators, divorce coaches, educators, financial planners and other related professionals on four continents around the world. All are focused on providing resources to create the most positive and harmonious outcomes for families coping with divorce and its consequences.
"Divorce is far more complicated when you're a parent and innocent children are involved," says Sedacca. "I remember the emotional and physical toll it took getting through my own divorce with an eleven year old son. As a Divorce & Parenting Coach I help parents tackle the complex maze of divorce challenges by choosing strategies that support everyone in the family. Consequently the parents and children not only survive but actually thrive through and long after the process."
To commemorate the 10th Anniversary Sedacca is offering a 20% discount off of her internationally acclaimed ebook on breaking the divorce news to children: How Do I Tell the Kids About the Divorce? A Create-a-Storybook Guide To Preparing Your Children – With Love! She is also including her Therapeutic Insights Journal and special report on Recognizing Signs of Conflict In Your Child with each purchase.
Parenting Specialist Sally Goldberg, PhD says about the book, "This hands-on interactive ebook is a must for all parents going through a divorce. It is a step-by-step guide for appropriately including children in the process. No divorcing parent should be without it!"
There is no fee for joining the Child-Centered Divorce Network. Parents sign up with their email address and receive Rosalind's free ebook, Post-Divorce Parenting: Success Strategies For Getting It Right! They also get her complimentary weekly newsletter with expert articles addressing crucial issues related to co-parenting effectively, the effects of divorce on children of different ages, communicating with your children, coping with life changes, dating after divorce and other relevant topics and issues.
Parents also have access to other valuable resources to help them make the most positive decisions regarding their children during and after divorce. This includes Sedacca's Expert Interview Series, her personal coaching services, 10-hour Audio Coaching Program with Workbook, Parenting Beyond Divorce co-parenting guidebook, How Do I Tell the Kids About the Divorce ebook, blog, podcast, media interviews, news about featured webinars as well as Recommended Resources for creating a child-centered divorce.
Jenny H., a coaching client in Boca Raton, FL, says "My experience with Rosalind has been phenomenal! There are no words to express the support, warmth, and compassion I continue to receive from her as a coach."
"I am passionate about working with leaders in the legal, therapeutic and educational communities to make parents more aware of their responsibility to their children's well-being when facing separation or divorce," says Sedacca. "We can never overemphasize the impact that parental decisions about divorce can have on children of all ages – for years – and often for a lifetime."
To heighten awareness Sedacca collaborates with experts around the world in spreading the word that "When parents divorce, their children need them more than ever. Don't let them down."
For more information about the Child-Centered Divorce Network, its programs and services, visit http://www.childcentereddivorce.com or contact Sedacca at Rosalind(at)childcentereddivorce(dot)com.