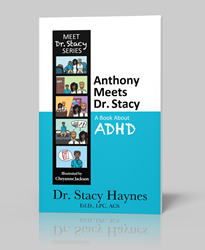 Opening the first page of the book and hearing my son say "He looks like me!" was such an awesome feeling. I was so happy that my son was able to relate to the character.
Philadelphia, PA (PRWEB) April 27, 2016
At 17 and a senior in high school, Cheyanne Jackson teams up with her Aunt, psychologist Dr. Stacy Haynes to write a children's book about children with Attention Deficit Hyperactivity Disorder (ADHD) to help spread the word in Black communities about treatment.
African American boys are diagnosed with higher rates for ADHD and are more likely to be placed in educational services than any other child in school. Yet many African American families are underserved in mental health settings. This book helps give parents an understanding of this often misunderstood and often misdiagnosed disorder.
Dr. Stacy Haynes, Ed.D., LPC is a Counseling Psychologist who is an expert in the treatment of children with behavioral challenges. She hosts a weekly parenting show, Parenting Tips 2 Go w/ Dr. Stacy and has been featured in articles, media and newspapers for her parenting tips. Dr. Stacy's first book, Powerful Peaceful Parenting: Guiding Children, Changing Lives has won two book awards.
Cheyanne Jackson, 17, is a new illustrator and is hoping to help others understand the journey that her brother has struggled with in school. Her father was also diagnosed with ADHD but was not treated. Cheyanne was raised by her grandmother and understands the challenges her brother faces each day because of his diagnosis.
Anthony Meet's Dr. Stacy, depicts all African American characters in the story and tells how treatment can vary for each child and does not always require medication. This book gives an informational parent section that gives parents tools and resources if their child has been diagnosed. Available on Amazon.com
Interviews contact Dr. Stacy Haynes 856-228-1005, 856-228-1006 fax
Radio show airs WIAMRadio.com Tuesdays 10:30am, Sundays LIFT FM 7pm
http://www.ParentingTips2Go.com http://www.LittleHandsServices.com