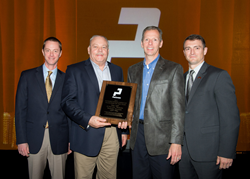 The award validates our recent investment in personnel and is reflective of a strong service network that backs us.
Hartland, Wisconsin (PRWEB) April 25, 2016
Every year, Paccar Leasing selects one PacLease franchise to receive the award. The nomination is based on overall sales success and the efforts made in delivering high quality products and services to their customers.
JX Lease and Rental General Manager, Ron Neumuth, and JX Vice President of Operations, Randy Buening, were in Scottsdale, Arizona, to accept the award.
"It's nice to be recognized as the best in a field of intense competition," says Neumuth. "We see this as a great recognition."
This past year, JX Leasing focused on increasing the presence of their sales team using targeted marketing initiatives. The division has also substantially grown their sales team over the course of the last year in order to better serve their region.
"It is a great honor in recognizing the efforts of our lease and rental team," says Randy Buening, Vice President of Operations at JX Enterprises.
With such a young sales staff, the JX lease and rental team spent significant time training in order to provide everyone with the tools necessary to succeed.
"No one else in the Midwest has ever won this award. The honor gives us more credibility and will separate us from our peers," says Erik Hahnfeld, JX Director of Lease Sales. "Customers want to do business with companies that are successful."
According to all three JX executives, the success is thanks to the whole team, from ownership to support staff.
"The award validates our recent investment in personnel and is reflective of a strong service network that backs us," says Buening.
JX Leasing is a division of JX Enterprises. The company owns 19 medium- and heavy-duty truck dealerships across the Midwest.
About JX Enterprises
JX Enterprises was founded in 1970. Headquartered in Hartland, Wis., the company operates 19 Peterbilt medium- and heavy-duty truck dealerships throughout the Midwest with locations in Appleton, Green Bay, Madison, Milwaukee, Mineral Point, Waukesha, and Wausau, Wisconsin; Grand Rapids, and Kalamazoo Michigan; Bloomington, Bolingbrook, Champaign, Elmhurst, Lansing, Rockford, and Wadsworth, Illinois; and Fort Wayne, Indianapolis, and Lafayette, Indiana. The JX Truck Center location in Wausau showcases Volvo trucks, service, and parts in addition to Peterbilt; and JX Hino - Chicago (Bolingbrook) showcases Hino trucks, service, and parts. JX is known for its ability to assist customers by providing transportation solutions that maximize results that fit their long and short-term goals. The company offers new and pre-owned truck sales, as well as a full array of financing, leasing, rental, parts, and repair services.