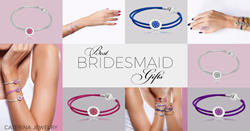 "Finding the perfect gift for your bridesmaids is often challenging. Our new collection will nicely complement the bridesmaids' outfits and will be a treasure-forever token of remembrance and togetherness" Cathy Barouch, co-founder and head designer
Beverly Hills, California (PRWEB) April 26, 2016
Caterina Jewelry, a luxury jewelry designer based in Beverly Hills, California, is launching the CJ Bridal Minimalista Charm Collection, a new line of silver charm jewelry geared toward brides-to-be. The collection, which is now available in the company's online store, features stunning silver charm bracelets, necklaces, and earrings for the brides, as well as fabulous accent pieces for the bridesmaids.
Gifting the bridesmaids is a long-standing wedding tradition that has been honored for decades. As the persons who support the bride every step of the way, from the first moment to the very last, and share the joy of the blessed union that marriage is, the bridesmaids are an important part of every wedding. Caterina Jewelry has come up with a unique, one-of-a-kind line of silver charm jewelry intended to complete the bridesmaids' outfits without outshining the bride's — the CJ Bridal Minimalista Charm Collection. A new take on the company's classic 3mm collection, the line will feature gorgeous bracelets, necklaces, and earrings available in .925 silver, .925 gold-toned silver, .925 rose-toned silver, and genuine leather in a selection of colors.
According to Cathy Barouch, co-founder and head designer, "Finding the perfect gift for your bridesmaids is often challenging. Our new collection will nicely complement the bridesmaids' outfits while offering the bride beautiful pieces to perfect her ensemble."
The CJ Bridal Minimalista Charm Collection includes silver charm bracelets and necklaces that feature a 1/2 x 1/12.5-inch coin-shaped charm on a 2mm chain. The coin is encrusted with intricate Swarovski crystals in a number of colors, channeling timeless elegance and adding a sense of luxury to the bridesmaids' outfits, and instantly elevating their look. The bracelets come with a double-wrap chain that is linked together by the coin-shaped charm. With sleek metallic exteriors, exquisite details, and a selection of bright colors to choose from, Caterina Jewelry's newest collection is the perfect reflection of the current minimalist modernist trend and a token of appreciation and sincerity for the bridesmaids.
Furthermore, the company's 2mm line also includes silver charm bracelets and necklaces with white opal Swarovski crystals for the bride, offering the perfect wedding jewelry at affordable prices. "Whether it's a rustic wedding or an ultra-modern one, our 2mm line is sure to add just the right dose of sparkle to your bridal ensemble," states Lara Korhammer, co-founder and principal.
The CJ Bridal Minimalista Charm Collection is available in Caterina Jewelry's online store and select retailers across the US. For more information, contact our sales department via email at sales@caterinajewelry.com, or follow Caterina Jewelry on Facebook, Instagram, Twitter, Google Plus, or LinkedIn.
About Caterina Jewelry
Caterina Jewelry, LLC is a luxury designer and manufacturer of silver charm jewelry based in Beverly Hills, California. The company creates one-of-a-kind jewelry that blends European flair with American ingenuity into designs that are exquisite, elegant, and unapologetically feminine. Caterina Jewelry has invented and patented the world-renowned charm opener, dubbed as "the little pink wonder that saves time, frustration, and manicures," which can easily open all brands of silver charm bracelets. The company has been extensively featured in all major fashion and jewelry magazines, as well as in mainstream press and a number of prominent venues such as Modern living with kathy ireland® back in October 2015.