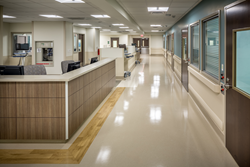 We chose the SURFIX SCREED SET from PSP because it performed as promised and is extremely cost-effective.
East Setauket, New York (PRWEB) May 02, 2016
Just completed in April, the Grady Hospital's new Emergency Center wing relies on flooring underlayment and screed mortar layers from PENETRON Specialty Products (PSP) – a flooring solution that will stand up to the punishing, high traffic environment of a 24/7 emergency center.
The Grady Memorial Hospital is the largest hospital in Georgia and the public hospital for the city of Atlanta, where the Emergency Center accounts for about 75% of inpatient admissions. The Grady Hospital's nationally acclaimed Emergency Department (ED) treats adult medical, surgical, and trauma patients.
The $76 million expansion project includes a nearly 88,000-square-foot tower, as well as approximately 74,000 square feet of floor space for the Emergency Center. The five-story tower, adjacent to the existing hospital, will house administrative offices, creating space for additional inpatient rooms and services.
This expansion of the hospital's Emergency Center "allows the Grady Hospital to enhance its role as the state's leading provider of emergency care," said John Haupert, Grady Hospital President and CEO.
Work on the Emergency Center expansion and redesign began in March 2014 and was completed in April of 2016. To prepare the 21,000 square feet of concrete floor, PRIMER STX 100 and LEVELINE 15 underlayment from PENETRON Specialty Products (PSP) were used to level the critical areas. The new SURFIX SCREED SET mortar helped solve the problem of the elevation changes in the floor where the 2" (5 cm) difference between the new wing and existing building had to be addressed to meet flatness specifications for the finished flooring.
"The adjustment of the floor elevation between the old structure and the new flooring design height demanded a suitable surface to install the specified flooring," explains Mike Portwood, the installing contractor at Baker Paint & Flooring. "We chose the SURFIX SCREED SET from PSP because it performed as promised and is extremely cost-effective."
"With this new, state-of-the-art emergency center that facilitates innovation and supports rapid patient assessment and triage, the Grady Hospital has the potential to become a national model for emergency care," adds Peter Trainor, Vice President of Sales at PSP. "Our floor prep solution will also ensure that the floors will hold up to the constant and heavy traffic normally found in these facilities."
PENETRON Specialty Products (PSP) is a division of The PENETRON Group. PSP is a leading supplier of specialty floor preparation and repair systems. The PENETRON Group, the global leader for concrete crystalline waterproofing technology and concrete repairs systems, operates through a global network, offering support to the design and construction community through its regional offices, representatives and distribution channels.
For more information on PSP and The PENETRON Group, please visit http://www.penetronsp.com, or email: info(at)penetronsp(dot)com or contact our Corporate Relations Department at 631-941-9700.