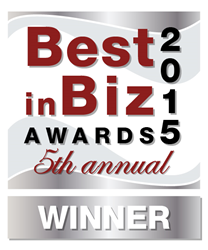 Irvine, CA (PRWEB) April 26, 2016
Comtrend, a leading global provider of advanced networking solutions, has been named a silver winner for their GCA-6000 Ethernet over Coax Adapter series in the prestigious Best in Biz Awards 2015. Best in Biz Awards is the only independent business awards program judged by members of the press and industry analysts.
Comtrend's award-winning GCA-6000 is the first G.hn standards-compliant Ethernet over Coax adapter. It allows users to extend a local area network to remote locations via existing coax cables. Existing coaxial cables are already installed throughout many homes and businesses. When these existing coaxial cables are not being used for passing Cable video/Cable Internet services, these coaxial cables provide a perfect physical medium to create a high performing Internet connection. The combination of low interference coaxial cabling plus the efficiency of the video-optimized G.hn standard enables the best real world Internet performance.
The fifth annual program in North America boasted the highest number of submissions to date. More than 600 entries were received this year, from a wide array of public and private companies of all sizes and from a variety of industries and geographic regions in the U.S. and Canada.
"In the more than 15 years that I have been covering enterprise and consumer technology, it's been fascinating to watch "old school" tools and technologies evolve for the cloud era," said Mathew Schwartz, InfoRiskToday, returning to the Best in Biz Awards judging panel for the second time. "What struck me most about this year's entries in the Best in Biz Awards were the businesses that — brand names or not, long-established players or even more recently birthed organizations — continue to grapple with how to best reinvent themselves, and by doing so best tap the latest technology possibilities and capabilities for better attracting, retaining and serving their customers."
Best in Biz Awards 2015 honors were presented in 60 categories, including Company of the Year, Fastest-Growing Company of the Year, Most Innovative Company of the Year, Best Place to Work, Technology Department of the Year, Executive of the Year, Most Innovative Product of the Year, Best New Product of the Year, Marketing Campaign of the Year and Website of the Year.
Manager of Product Management at Comtrend North America, Fiona Hsiao, comments, "We are pleased to have earned this award from Best in Biz. We believe the GCA-6000 G.hn Ethernet over Coax Adapter offers a new, improved solution for the networking market. The optimal Internet connectivity solution in most cases would be a direct-wired Ethernet (RJ-45) connection. However, for most users, this is an expensive and troublesome option. By using existing coaxial cables, it saves valuable service time, reduces truck rolls, and provides a network connection that is both higher performing and more secure than wireless technology."
Availability
The GCA-6000 is available now. For more information please visit: http://us.comtrend.com/products/public/product/service-provider/gca-6000.html
About Comtrend
Comtrend, with more than 25 years of experience, has become one of the leading global providers of advanced networking solutions. Comtrend designs, manufactures, and markets a wide range of networking and surveillance equipment and software. Service providers, businesses, and consumers look to Comtrend for broadband gateways, as well as the latest WiFi, surveillance, Powerline, and coax technologies. Comtrend also remains committed to industry standards, like G.hn for home networking, as well as interoperability and market-leading performance. People in businesses and homes around the world trust Comtrend to make their technology easier and more dependable. For more information, including Comtrend's full lineup of home networking solutions, please visit http://www.comtrend.com.
About Best in Biz Awards
Best in Biz Awards recognizes top companies, teams, executives and products for their business success as judged by established members of the press and industry analysts. Best in Biz Awards honors are conferred in two separate programs annually: North America, and International. Entries will begin to be accepted in the fourth annual Best in Biz Awards International program in January 2016. Any organization worldwide may enter any of the more than 60 company, department or team, executive and product categories. For more information about the entry process and categories in the International program, please visit: http://intl.bestinbizawards.com.