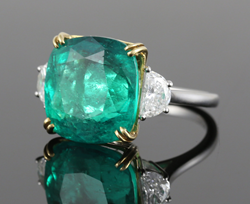 Beverly Hills, CA (PRWEB) April 26, 2016
Kaminski Auctions is proud to present its May 7th Estate Auction with a particular focus on fine jewelry in honor of Mother's Day. A selection of exquisite Sri Lankan natural sapphires, emeralds and rubies set in platinum and gold feature in several of the jewelry pieces on offer.
The top jewelry lot is an 18 carat yellow gold, prong set ladies ring featuring a 9.64 Colombian emerald center stone, flanked by two diamonds with approximately .70 total diamond carats. The ring is conservatively estimated at $30,000-$50,000. Another stunning ring features a Sri Lankan natural yellow sapphire, having 22.60 total sapphire carats and 2.43 total diamond carats and is estimated at $25,000-$35,000. A gemstone report from C. Dunaigre, Switzerland is available with this ring.
Ladies diamond and sapphire, and diamond and emerald bracelets, a stunning ruby necklace, pink sapphire, citrine and tourmalines rings and an exquisite pair of 18 carat gold golden South Sea pearl and diamond earrings are among the other fine jewelry offerings in the sale.
For the gentleman a Jaeger-LeCoultre Swiss-made watch, marked 750, inlaid with diamonds and numbered and two pocket watches; an 18 carat gold English pocket watch, signed Francis Thurkle, circa 1795, and an Agassiz pocket watch in 14 carat yellow gold with fob, in it's original wood box are featured in the sale.
Fine art on offer includes a J. G. Hardy oil on canvas, titled "The Courtship," in a hand carved gilt frame; a Henri Hourtal (French, 1877-1944), titled "Cote d'Azur, a painting titled "Scream" by the Israeli painter Igael Tumarkin and from the local artist Edward Burrill (American, 1835-1913), a view of Lynn marsh with dinghy, signed lower left.
Other items of interest include a Celia Laighton Thaxter (American, 1835-1894), ceramic vase with Greek inscription decorated with olive branches, a Navajo chief's blanket, Tiffany silver flatware and Thai bronze Buddha's.
Preview hours are Wednesday- Friday 10:00 am-5:00 pm and day of sale beginning at 8:00am at the Kaminski Auctions gallery at 117 Elliott Street, (Rt. 62), Beverly, Massachusetts. A complete listing of all items in the auction is available at http://www.kaminskiauctions.com. Sign up to bid with KaminskiLIVE or call 978-927-2223 for more information.