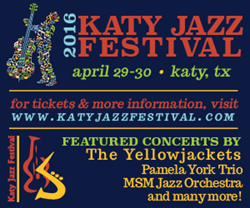 "This is the third year that The Jazz Network Worldwide has promoted The Katy Jazz Festival and find that each year grows bigger and offers musicianship and teaching that touches the palates of the seasoned jazz listener as well as the new ears to jazz"
(PRWEB) April 26, 2016
The Katy Jazz Festival is known for their innovative musical presentations that offer the exposure of jazz to the masses. They not only keep their hand on the pulse of new trends in jazz but the artists that are making their claim on jazz stages worldwide prided on the excellence of providing the best quality of musicianship to its audiences.
"This is the third year that The Jazz Network Worldwide has promoted The Katy Jazz Festival and find that each year grows bigger and offers musicianship and teaching that touches the palates of the seasoned jazz listener as well as the new ears to jazz," states Jaijai Jackson of The Jazz Network Worldwide.
Beginning on Friday, April 29, outstanding student Big Bands will be providing live concerts starting at 2, 3, 4, 5, and 6 PM. The Featured Evening Concert begins at 7:30 PM with world-renown jazz artists the Pamela York Combo and concludes with the MSM Jazz Orchestra, directed by Noe Marmolejo, with featured guest artist, drummer Will Kennedy! Day pass (Valid 2 - 7pm) $3, Feature Concert ~ $20. All Day Pass $20
On Saturday, April 30, festivities begin at 9:00 AM with 3 different performance areas featuring student jazz Big Bands, student jazz combos, professional combos from throughout North America, as well as the professional art exhibit of ARTkaty hosted at the Katy Contemporary Arts Museum! Saturday is capped off with the 2nd Featured Evening Concert of the Festival beginning at 7:30 p.m. This concert will begin with the Katy ISD All-Star Jazz Band, directed by Mr. Bruce Melville and will conclude with the FEATURED HEADLINER group – The internationally acclaimed, Yellowjackets! Day pass (Valid 8am – 7pm) $7, Feature Concert ~ 2016 Katy ISD All-Star Band and The Yellowjackets (7:30pm) $20,All Day Pass $25, All Events Pass $40 (includes all activities both days) Located at the Katy High School, 6331 Highway Blvd., Katy, Texas.
The dedication of Katy ISD and the City of Katy in supporting their jazz programs are nothing short of AMAZING. The Katy Jazz Festival was an incredible example of this. They should be a role model for all school districts and communities. Brad Leali ~ professional jazz musician, jazz professor, Univ. of North Texas
This great weekend of Live Jazz and Art is once again supported by the City of Katy, in partnership with the Katy Independent School District.
Recently featured Jazz Artists of the Katy Jazz Festival include: Wayne Bergeron, Andy Martin, Brad Leali, Andre Hayward, Mike Vax, Cyrus Chestnut, Kristin Korb, Dennis Dotson, Jeff Colella, Jacques Lesure, Jeff Hellmer, Quamon Fowler, Alvin Atkinson, Scott Whitfield, Derrick Gardner, Carla Helmbrecht, Woody Witt, Gary Hobbs, John Raymond, Jennifer Leitham, Horace Grisgsby, Rick Conditt, Michael Wheeler, Eddie Moore, Paula Maya and Tianna Hall.
Experience the charm of Katy, Texas! Partnering Katy Hotels, located within 7 minutes of the Katy Jazz Festival site, are offering discounted rooms for all Festival attendees and participants. Partner Hotels include: Katy Best Western Plus Inn and Suites, Comfort Suites, Country Inn and Suites, Courtyard by Marriott, Hilton Garden Inn, Homewood Suites by Hilton, Residence Inn by Marriott, and the Springhill Suites by Marriott.
Daily passes, All-Festival passes, and Feature concert tickets may be purchased online, at the door, or at the Hilton Garden Inn lobby location during the dates of the event. Make plans now to enjoy a world-class weekend, in a charming "small city" setting!
Come by and enjoy the feature of the 8th Annual Katy Jazz Festival on The Jazz Network Worldwide social network. http://www.thejazznetworkworldwide.com. For tickets and information, visit: http://www.katyjazzfestival.com