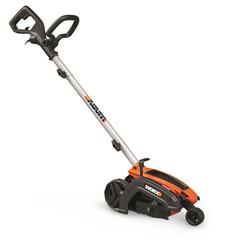 Charlotte, N.C. (PRWEB) April 26, 2016
The New WORX® 12 Amp 2-in-1 Edger/Trencher is the ideal yard tool for edging sidewalks and driveways, as well as digging trenches to lay cable and define landscaped areas. The edger/trencher has three adjustable blade-depth positions and a two-position adjustable shaft to match the user's height.
When it comes to laying an edge, there's no substitute for a powered edger. A string trimmer helps maintain edges after mowing, but to establish a cleancut edge that clears dense grass overgrowth, a powered edger is the tool of choice. The WORX model not only edges, but digs trenches. The trencher feature helps define flower beds, shrubbery, trees, rock gardens and other landscaped areas without lifting a spade.
The trencher feature also is handy for homeowners laying cable or other wire that needs to be recessed below the surface.
"Homes with manicured lawns and crisp landscaped edges bring value to homeowner's properties and the neighborhood," said Brandon Martin, WORX Product Manager. "The WORX Edger/Trencher helps homeowners achieve professional results without hiring a landscape service."
The edger/trencher features a powerful 12 amp motor that spins the 7-1/2 in. blade at 4700 rpm (no-load) and operates on standard 120 volt current. It accommodates outdoor-rated extension cords up to 150 ft. The edger's D-shaped handle with on/off trigger has a built-in cord clip to secure the extension cord. There's also a pivoting front assist auxiliary handle to guide the edger/trencher.
The 13.9 lb. machine has a sloped, streamlined body with blade guard and an outstretched front wheel and two oversized rear wheels for mobility. The edge guide knob is used to align the blade, while the depth-of-cut knob lowers the blade to 1, 1-1/4 and 1-1/2 in. depths. There's also a sight-line indicator so the operator knows exactly where the blade intersects with the grass or dirt. If the edger/trencher's blade goes dull, it can be sharpened or replaced.
The WORX 12 Amp 2-in-1 Edger/Trencher, (WG896, $89.99) is available at worx.com and other online retailers including Home Depot and Walmart. The edger/trimmer is covered by the WORX 3 year warranty.
To reach out to WORX social media links visit: Facebook: https://www.facebook.com/worxus?ref=hl; Twitter: https://twitter.com/WORXTools
# # #