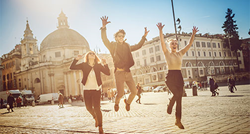 CostSaver's 34 different value itineraries allow travelers on a budget the chance to experience Europe in a way they never knew they could afford.
ANAHEIM, Calif (PRWEB) April 25, 2016
Savor more of Europe for less on a CostSaver operated by Trafalgar vacation and save $300 off airfare per person on select departures when booked through May 9, 2016. Get all the iconic sights, three or four star hotels, many meals, and transportation for an unbeatable experience at an unbeatable price from just $91 per day.
"CostSaver's 34 different value itineraries allow travelers on a budget the chance to experience Europe in a way they never knew they could afford," said Paul Wiseman, president of Trafalgar and CostSaver. "Get much more than you would when traveling on your own, and save up to 30% against the cost of comparable independent travel."
All the essentials are arranged for guests by an expert Travel Director and include transfers to and from the airport, accommodation in three or four star hotels with breakfast daily and up to half the meals needed. Guests enjoy a well-balanced, beautifully-planned trip with sightseeing and plenty of free time included plus inclusion of all baggage handling, hotel charges and local taxes.
Featured CostSaver trips:
1. Highlights of Germany – 12 days from $129 per person per day
Cruise along the romantic River Rhine and take in the spectacular scenery. Explore Hamburg before crossing the former Iron Curtain to the historic city of Berlin. Shop for wooden Christmas ornaments in the medieval town of Rothenburg, enjoy a beer in Bavaria's capital of Munich and be amazed on the drive through the enchanting Black Forest.
2. Splendors of Italy - 13 days from $138 per person per day
Italian cuisine is some of the tastiest in the world so when in Italy, sinfully indulge in the pasta, pizzas, prosciutto, Prosecco and Parma ham. Travel from Rome to the Bay of Naples, through Sorrento, Assisi, Venice, the Italian Lakes, Pisa and Florence. Travelers will eat their way across this flavorful country.
3. Britain and Ireland Explorer - 19 days from $143 per person per day
Meet where medieval and modern intersect on the 19-day Britain and Ireland Explorer. Take in views of the historic castles of Edinburgh, Dublin, Blarney and Cardiff. Along the way, enjoy the scenery of world famous St. Andrews and Cliffs of Moher.
4. European Experience - 14 days from $156 per person per day
The style mavens of Paris and sunbathers on the French Riviera come to mind when thinking of romantic France. Travel to London, stopping in Paris for two nights to indulge in Francophile fantasies, and see much more including Switzerland, Italy, Amsterdam, Germany and Austria.
5.European Magic - 14 days from $160 per person per day
The glamorous French Riviera, Monaco, Cannes, and Paris are highlights of this whirl through Europe. From London, travel to the Eternal City of Rome, serene Geneva, Renaissance Florence and unique Venice.
To see all trips on sale and book a vacation, talk to Trafalgar's Travel Experts at 866-544-4434 or contact a Travel Professional. A complete list of trips is available at trafalgar.com/costsaver.
About CostSaver, operated by Trafalgar
CostSaver tours are operated by Trafalgar, the industry leader. Trafalgar's 70 years of guided travel expertise means that CostSaver has the knowledge and buying power to give guests all the inclusions they would expect on a quality European tour at an unbeatable price.
About Trafalgar
With almost 70 years of expertise, every Trafalgar trip is infused with the best moments like exclusive Insider Experiences, VIP treatment and relaxing free time. Committed to doing everything to give guests the best vacation, that means they are guaranteed the best memories. Trafalgar is a member of the family-owned The Travel Corporation (TTC), renowned and trusted for its outstanding quality, service, value, reliability and financial stability. Join the conversation at: Trafalgar.com, Facebook.com/TrafalgarTravel, Twitter.com/TrafalgarUSA, Instagram.com/TrafalgarTravel.
About The TreadRight Foundation
Trafalgar is a proud supporter of the TreadRight Foundation. Created as a joint initiative between TTC's family of brands, the TreadRight Foundation is a not-for-profit working to ensure the environment and communities we visit remain vibrant for generations to come. To date, TreadRight has helped support more than 35 sustainable tourism projects worldwide. The foundation's guiding principle is to encourage sustainable tourism development through conservation, leadership and support for communities.
TreadRight's past project partners include World Wildlife Fund, Conservation International and The National Trust in the UK. Current initiatives include sponsoring the National Geographic Society's inaugural "World Legacy Awards," helping to combat wildlife crime with WildAid, and empowering individuals with the Alliance for Artisan Enterprise.
To learn more about our past and current work at TreadRight, please visit us at treadright.org.
Terms & Conditions: *Receive a $300 per person discount on select air-inclusive CostSaver departures when new bookings are made and deposited between 04/25/2016 and 05/09/2016. Valid on any airlines and class of service. Combinable with brochure discounts, but is not combinable with other promotional offers (including show coupons). Offer is subject to availability and may be withdrawn at any time without notice. Other conditions may apply.