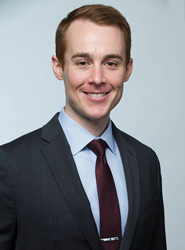 LOS ANGELES, Calif. (PRWEB) April 27, 2016
Cameron Cushman has joined the Los Angeles office of Lewis Roca Rothgerber Christie LLP as an associate in the firm's Intellectual Property practice group.
Clients turn to Cushman for preparing and prosecuting U.S. and international electrical, mechanical and electromechanical patent applications. He has an electrical engineering and computer engineering background, and experience in the medical device industry developing and commercializing new medical device technologies.
Cushman earned his law degree from the University of Iowa College of Law and holds a bachelor's degree in Electrical, Computer and Systems Engineering from Rensselaer Polytechnic Institute in Troy, NY.
About Lewis Roca Rothgerber Christie LLP
Lewis Roca Rothgerber Christie LLP is built on the strengths of legacy firms Lewis Roca Rothgerber and Christie, Parker & Hale, providing clients across a wide range of industries with representation in litigation, intellectual property, business transactions, gaming, government relations and other practice areas. Lewis Roca Rothgerber Christie offices are located in Albuquerque, Colorado Springs, Denver, Las Vegas, Los Angeles, Orange County, Phoenix, Reno, Silicon Valley and Tucson.