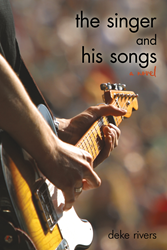 TORONTO (PRWEB) April 26, 2016
In today's world of YouTube sensations and reality TV stars, there's something romantic about the stars of previous generations. As audiences everywhere have seen in films about old musical icons such as "Jersey Boys" and "Walk the Line," nothing changes a life like being catapulted to musical stardom.
Deke Rivers examines the complications that came with fame in the 1950s and '60s in his novel, "The Singer and His Songs." Rivers tells the tale of Chris Wild, a guitarist who abandoned his budding music career in Australia to move with his family to Canada – only to see his worlds collide when his songs become hits all over the world.
'
What follows is a spellbinding tale of fame, fortune, and love, both new and old. Stardom takes Chris all over the world as he struggles to confront his past in order to move into the bright future. Along the way, Rivers immerses readers in the music of a bygone era. Inspired in part by his own love of music during his teenage years, Rivers highlights the power of a true performer.
For more information, visit http://sbpra.com/dekerivers/.
The Singer and His Songs
By Deke Rivers
ISBN: 978-1-4502-1792-7
Available in softcover, hardcover, e-book
Available on Amazon, Barnes & Noble and iUniverse
About the author
Deke Rivers currently resides in Toronto, Ontario. As an architect, he designed numerous recording studios. Rivers witnessed the birth of rock and roll and its evolution throughout his youth in Australia as well as during his teenage years in Canada and the United States.
# # #
**FOR IMMEDIATE RELEASE**
For review copies or interview requests, contact:
Drew Tharp
317.602.7137
dtharp(at)bohlsengroup(dot)com