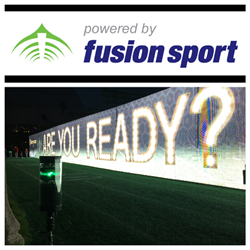 "SMARTSPEED brings a level of precision and cutting edge technology to the testing/training environment that is unlike any other system out there." -Timoty DiFrancesco, Head Strength & Conditioning Coach, LA Lakers
Chicago, IL (PRWEB) April 28, 2016
For the second year in a row, the #40YardDash, powered by Fusion Sport SMARTSPEED timing systems, will be the main attraction at NFL Draft Town's Combine Corner. To enhance the experience even more, participants get to race each other as well as a pre-recorded NFL star displayed on an LED screen spanning the entire 40 yards! Fans have the opportunity to be tested with SMARTSPEED PRO wireless timing gates, the same professional equipment used to evaluate yet undrafted NFL hopefuls at the NFL Regional Combines (@NFLRegCom) around the country. Participants times will be displayed on Smartscore wireless scoreboards, allowing them to snap a picture with their times to show friends and family. Other attractions include the vertical jump, an obstacle course, a long snap, an extra point kick and a quarterback challenge.
This year, the Chicago Bears will also be holding their own Miller Lite Draft Party at Soldier Field on Thursday, April 28, where sports performance experts from TC Boost will also utilize Fusion Sport SMARTSPEED timing systems for fan participation events like the 40 yard dash, Pro-Agility drill, and others. Experience the excitement of the NFL Draft with the Bears featuring more player autographs sessions, on-field activities, fireworks, locker room tours, giveaways and fans can view NFL Draft coverage on the stadium video boards!
In addition to best in class timing systems, Fusion Sport is also known for their award winning Athlete Data Management platform, SMARTABASE, used by over 120 professional teams, colleges and Olympic Sports Organizations worldwide.
Fusion Sport is a globally recognized brand in athlete speed, agility testing, and training used by professional sport organizations around the world. SMARTSPEED wireless timing gates can accommodate different levels of users' needs with all PRO, LITE, and PT versions, controlled via the SMARTSPEED app on iOS & android devices.
Draft Town presented by Oikos Triple Zero invites families and fans of all ages to enjoy a free admission, three-day football festival in Chicago's Grant Park full of fun football activities, participatory games, youth football clinics, merchandise from NFL Shop, free autograph sessions from NFL players and more. Chi-Town is Draft Town, visit NFL.com/DraftTown.
For more information on Fusion Sport, Smartspeed, and Smartabase products & services, stop by Combine Corner at the NFL Draft, or go to http://www.FusionSport.com.