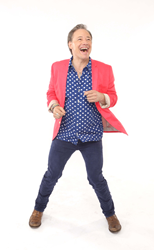 New Brunswick, NJ (PRWEB) April 26, 2016
State Theatre presents Brady Rymer & The Little Band That Could – "Love Me for Who I Am" on Sunday, May 1, 2016 at 2pm. The Brady Rymer performance is part of the State Theatre's inaugural Autism-Friendly Performances series. The performance will be held at the Crossroads Theatre on 7 Livingston Avenue, New Brunswick, NJ. Tickets are $25.
Two-time Grammy® Award nominee Brady Rymer and his band perform a rockin' and rollin' show featuring songs that celebrate children of all abilities. Dance and sing along with the group that NPR has called "the best-sounding band in children's music."
Grammy® Nominee Brady Rymer, toured and recorded with RCA roots-rock band From Good Homes for 13 years, sharing the stage with the likes of Bob Dylan, Dave Matthews, and the Grateful Dead's Bob Weir, before parenthood expanded the scope of his music to include young and old alike.
When Rymer started a family, parenthood naturally expanded the scope of his music, and he started singing about his growing family and their new experiences. His son's fascination with an expanding tummy after a hearty meal is captured in the song "Look At My Belly." "Dilly Dally Daisy" is all about his daughter's curiosity—the way she discovers something new and interesting around every corner.
Rymer debuted his homegrown songs at his children's preschool, and went on to perform community concerts, eventually playing New York area venues such as Symphony Space, Celebrate Brooklyn, and the Getty Museum as Brady Rymer & The Little Band That Could. He has released seven albums, winning critical acclaim and national awards along the way. Rymer's latest CD Love Me For Who I Am is a celebration of children of all abilities, inspired by the years he spent performing for and working with children on autism spectrum.
The State Theatre will also present school-day performances of these Autism-Friendly shows. For more information on Autism-Friendly Performances for Schools, call 732-246-7469, ext. 545 or visit http://www.StateTheatreNJ.org/autism_program.
Autism-Friendly Performances made possible in part by The Karma Foundation with additional support from The Wawa Foundation.
For tickets or more information, call the State Theatre ticket office at 732-246-SHOW (7469), or visit us online at http://www.StateTheatreNJ.org. The State Theatre ticket office, located at 15 Livingston Ave, New Brunswick NJ, is open Monday through Friday from 10am to 6pm; Saturday 1pm to 5pm; and at least three hours prior to curtain on performance dates unless otherwise specified. For information on group outings and discounts, call 732-247-7200, ext. 517. Some additional ticket and transaction fees may apply.
State Theatre, a premier nonprofit venue for the performing arts and entertainment. The theater exists to enrich people's lives, contribute to a vital urban environment, and build future audiences by presenting the finest performing artists and entertainers and fostering lifetime appreciation for the performing arts through education. The State Theatre's programs are made possible, in part, by funding from the New Jersey State Council on the Arts/Department of State, a Partner Agency of the National Endowment for the Arts, and contributions from numerous corporations, foundations, and individuals. The Heldrich is the official hotel of the State Theatre. Magic 98.3 is the official radio station of the State Theatre. The Star-Ledger is the official newspaper of the State Theatre. United is the official airline of the State Theatre.
STATE THEATRE
15 Livingston Ave
New Brunswick, NJ 08901
Ticket Office - 732-246-SHOW (7469)
Online - http://www.StateTheatreNJ.org
PHOTOS AND INTERVIEWS FURNISHED UPON REQUEST
Please contact Kelly Blithe at
732-247-7200, ext. 542 or by email at kblithe(at)StateTheatreNJ(dot)org.
Up-to-the-minute information on events and State Theatre news,
online at http://www.StateTheatreNJ.org.
# # #