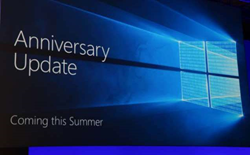 Windows 10 is the path that leads to increased productivity and data security for business. The Anniversary Update adds exciting features to enhance those benefits.
Hoboken, New Jersey (PRWEB) April 26, 2016
A NYC area IT consultant and MSP highlights the major feature upgrades of the Microsoft Windows 10 Anniversary update to be released in July 2016. The benefits to business users are outlined and discussed.
In a new article on the eMazzanti Technologies website, the company lists six new features of the popular Windows 10 operating system that will be included in the update scheduled for the first anniversary of the product's launch.
"Windows 10 is the path that leads to increased productivity and data security for business," stated Jennifer Mazzanti, President, eMazzanti Technologies. "The Anniversary Update adds exciting features to enhance those benefits."
Below are a few excerpts from the article, "6 Windows 10 Anniversary Update Features for Business."
Windows Hello Biometric Security Extended
"Introduced last year with Windows 10, Windows Hello enables enterprise-grade security with biometric sign-in on your device. Acknowledging that people reuse the same passwords across dozens of sites and accounts, Microsoft has extended the easy-to-use Hello biometrics to Window apps and the Microsoft Edge browser with supporting websites."
Windows Ink Enhancements
"Updates to Windows Ink are merging the digital and paper worlds. New Ink capabilities include, understanding notes to auto-create Cortana reminders, sketching on a pad, annotating maps, editing Word documents and using virtual rulers to aid in drawing and lining up objects."
Cortana Proactive Suggestions
"In the Anniversary Update, Cortana will be powerful enough to digest instructions like, 'Send the latest version of the Wilson contract to Laird,' and to make suggestions at appropriate times of the day like offering to buy you lunch or reschedule a meeting."
"The changes announced for the Windows 10 Anniversary Update certainly move Microsoft closer to its vision of a single, seamless user experience across all devices, and frankly, add to the excitement of better computer/work/life integration," the article concludes.
Read the complete article here.
Celebrate the Anniversary with eMazzanti
The Windows 10 Anniversary Update will be free to current Windows 10 users. Those who haven't done so may want to upgrade to Windows 10 soon. The user experience of Windows 10 is closer to Windows 7 than the less-popular Windows 8, so the transition from one OS to the other should be easier on users.
Upgrading to a new operating system for dozens or hundreds of users in a business environment can cost both time and money. If organizations wish to upgrade to Windows 10, eMazzanti Technologies can help them minimize the potential risks and costs, such as down time and issues with compatibility and integrations.
Related resource information:
Windows 8 End of Support is Here, Businesses Urged to Upgrade Now
About eMazzanti Technologies
eMazzanti's team of trained, certified IT experts rapidly deliver cloud and mobile solutions, multi-site implementations, 24×7 outsourced network management, remote monitoring and support to increase productivity, data security and revenue growth for clients ranging from law firms to high-end global retailers.
eMazzanti has made the Inc. 5000 list six years running, is a 2015, 2013 and 2012 Microsoft Partner of the Year, and a 5X WatchGuard Partner of the Year. Contact: 1-866-362-9926, info(at)emazzanti(dot)net or http://www.emazzanti.net Twitter: @emazzanti Facebook: Facebook.com/emazzantitechnologies.