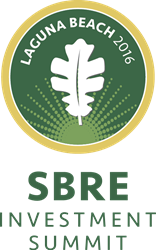 We make the connections and then the managers and investors are free to deepen those relationships as they see fit, both that evening and beyond the event," said Matthew Burk, Fairway America's CEO.
Portland, OR (PRWEB) April 26, 2016
After holding SBRE Summits in Seattle WA, Scottsdale AZ, and Dallas TX, Fairway America chose Laguna Beach CA as the site of its fourth event in the past 19 months. Fairway's executives conceived of the event format after having traveled to literally dozens of industry conferences around the county and finding that nothing quite hit the mark. "The unique format of the SBRE Summit is unlike any other event and has contributed highly to its popularity," said Matthew Burk, Fairway America's CEO. "I remember when we held that first event in Seattle. We had to work extremely hard to get people to come because no one had ever heard of or seen such an event. To have this one sell out without even really advertising it is very rewarding and is a testament to the value it brings to both SBRE entrepreneurs and high net worth investors."
The event is designed to gather members of the SBRE community – entrepreneurs, syndicators and fund managers on the one side and high net worth investors on the other – for mutual learning, engagement and benefit. The event is invitation only but people can inquire to request an invitation if they are interested in the space and the format. Fairway qualifies the attendees in advance of the event to ensure that the participants are as high quality as possible on both sides of the spectrum and to ensure that people are there for the right reasons. "One of our frustrations with many events that are designed to enable managers to meet investors is that we cannot tell who really is what they say they are," said Burk. "There seems to be a lot of posturing going on sometimes and this makes it hard to get the value out of it. We try very hard to make sure we know who is who coming into the event and ask that people simply be themselves."
Education, authenticity and engagement are the main themes at the SBRE Summit. After an opening night reception party for all attendees, the first full day is focused on education and training for the high net worth investor attendees. "We want to try to help them truly understand the nature of SBRE pooled investment funds and teach them about how they work before they hear presentations from fund managers about their investment opportunities," said Burk. "Investors want transparency and clarity but often do not know what to really ask or look for. These sessions have proven invaluable for both investors and fund managers in helping them understand how to better communicate with one another." The first day caps off with a private dinner for all participants where the SBRE entrepreneurs and investors can spend time together and get to know one another on a more personal level.
The second full day is focused on the presentations. Each presenting SBRE entrepreneur has 20 minutes to present to and answer questions from the audience of high net worth investors. Investors have electronic hand held devices to indicate whether or not they are interested in learning more about each entrepreneur, and the names of those investors who have voluntarily expressed interest in specific presenters are passed on to those presenters that same day. "Our goal is to provide a forum for fund managers to share their information with people who are there because they are specifically interested in learning more about investing in the space," said Burk. "We make the connections and then the managers and investors are free to deepen those relationships as they see fit, both that evening and beyond the event."
The day concludes with a Gala Dinner event for all participants with a featured, high profile speaker. Previous Summit speakers were Emmitt Smith, Magic Johnson, and President George W. Bush. This time Fairway is bringing in golf personality and television commentator, David Feherty, to address the crowd. "People have really enjoyed the final evening and I'm sure this will be no exception," said Burk. "It is a great way to cap off a special couple of days."
Although the 2016 SBRE Summit in Laguna is now completely sold out, Fairway is considering early applications for invitations and registration to its 2017 event which will be held at the Fairmount Grand Del Mar in San Diego CA on April 27-29. "We are excited and honored that the event has proven so popular, and disappointed we cannot let in more people," said Burk. "We really do want to let as many qualified people in as we can, but we have genuine space limitations at these facilities we choose. We want to make the event as special as possible so prefer to hold them at places people truly want to come. This often means very limited space, but that helps make the event special. Del Mar in 2017 will be fantastic!"
For Future Sponsorship Inquiries | Media Contact: MC Rydzewski, SBREfunds | Fairway America pr(at)fairwayamerica(dot)com
For Future Summit Presenter Opportunities: Parties interested in being considered for presenting an investment opportunity at the 2017 Summit should submit an "Application to Present": https://sbrefunds.com/events/present-your-sbre-investment-opportunity/
About Fairway America
Fairway America, LLC is a longtime real estate asset based fund manager and real estate finance advisory firm providing strategic business planning services nationwide to SBRE entrepreneurs around the structure, architecture, and administration of proprietary 506 Regulation D pooled investment funds. Fairway's related entities manage two proprietary funds, Fairway America Fund VI, LLC, and Fairway America Fund VII LP, each focused on the SBRE space with different asset allocations and investment features. Both funds consider investments nationwide.
About SBREfunds.com
SBREfunds.com is an online portal that exclusively lists small balance real estate investment opportunities. Created by Fairway America, SBREfunds.com provides entrepreneurs and investors with education and connectivity to better capitalize and grow an SBRE enterprise. From connection with investors to strategic capital raising plans to live events, SBREfunds.com is the definitive resource for SBRE entrepreneurs and accredited investors to understand how to successfully work with one another for mutual benefit and growth.
Follow us on Twitter at @sbrefunds , @fairwayamerica, and @sbreguru, and http://www.facebook.com/sbrefunds.
Neither Fairway America nor SBREfunds.com is a registered broker-dealer or investment advisor. None of the Fairway companies perform any activities of a broker or investment adviser, including but not limited to, soliciting investors, providing investment advice, negotiating securities transactions or the terms, conditions or provisions of any offering, or recommending the purchase of securities. This press release does not constitute an offer or solicitation to sell securities in any of the companies mentioned, any funds presenting at SBRE Summit events, or any related or associated companies. Investors must not rely on information provided in this press release for investment decisions.